The Perfect Ponytail for Every Occasion
by Shilpi Tomar {{"2015-04-28T15:00:00.000Z" | blogDate:'MMMM d, y'}}
Ponytails can be tricky, especially when trying to figure out how to style them for a particular occasion. When styled right, they can be an elegant statement for a special event, or a fun, low-maintenance look for a casual day out. Want to learn a few ways to style your ponytail? The folks at Madison Reed have got you covered.
A soirée.
Kick off the gorgeous weather with this equally gorgeous hairstyle. This high pony with curled ends is elegant for a spring party. Get the look: Blow dry your hair with a heat protectant until it's all the way dry and stick-straight. Use a little bit of gel and a thin-tooth comb to comb the hair back. Then, tie your hair in a tight ponytail (and use the comb to smooth the baby hairs). Next, take a 1.5 - 2-inch curling iron and curl just the ends of the hair. Spritz with a flexible hold hairspray to keep everything in place.
Jennifer Lopez image via Bigstock
Date night.
This poufy pony is feminine and romantic for a night out on the town. With volume on top and the flowy locks at the bottom, this look will keep you gorgeous all night. Get the look: This ponytail works best with second day hair, as it stays put a little bit more easily. Take turns back combing and spraying each side of the hair with a strong hold hair spray. Tease the hair in between sprays (for extra volume, blowdry the hair in between spritzes as well). Then, flip the hair over and tie it in a loose low ponytail, leaving some strands out. Curl your hair in your ponytail, and comb it out gently to make a loose wave.
Cameron Diaz image via Bigstock
Visiting the family.
Clean and put together, this part-bouffant hairstyle is great to wear when spending time with the family. This look is easy to create and will keep your hair away from your face with a classy touch. Get the look: Blow dry your hair straight first, then put a dime-sized amount of mousse in the palm of your handand run it through your hair. Blow dry just the front portion of your hair away from your face, then fold it back into a tight ponytail. Comb any flyaways from the side (you can spritz some hairspray on a comb and comb through).
Salma Hayek image via Bigstock
When working out.
This high and bouncy hairstyle is perfect to wear at the gym when you need a last-minute casual style that will keep your hair away from your face. Get the look: You can wear your hair natural beforehand, just tie it casually into a high but tight ponytail. You can tease the crown just a bit for some style and volume.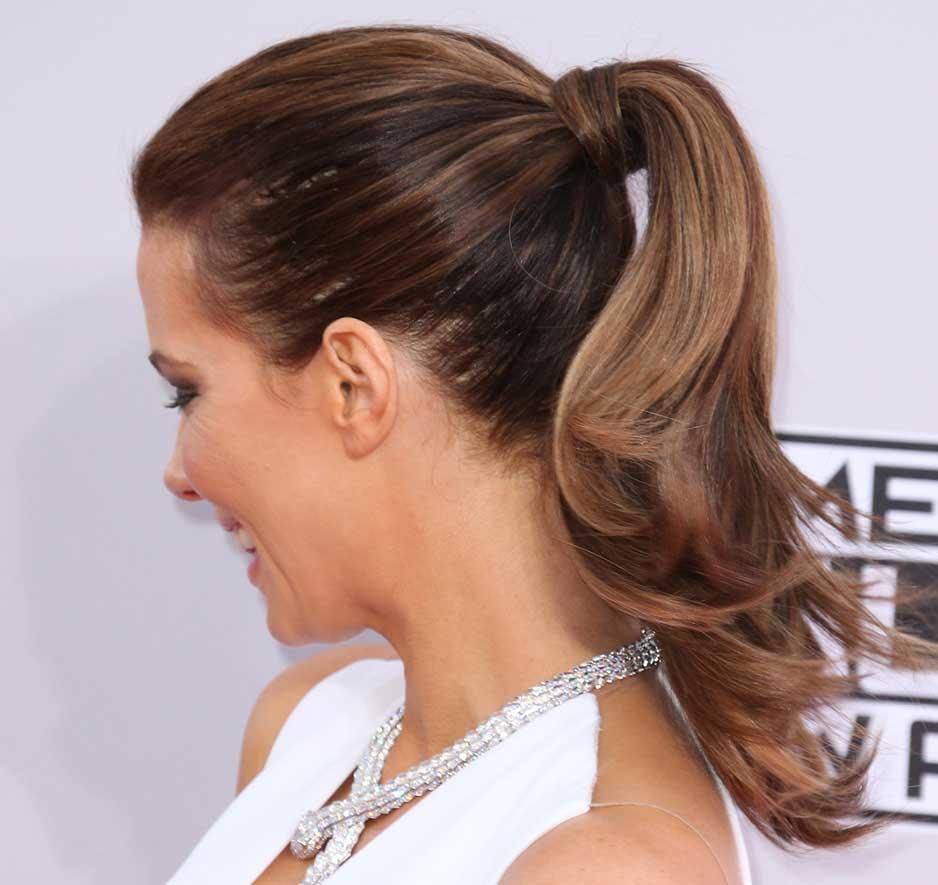 Kate Beckinsale image via Bigstock


Straight to the game.
Whether you're headed to an NBA game, the baseball stadium, or your kid's soccer game, this casual and cool hairstyle is just for you. Get the look: For this look, You can either blow dry, use a diffuser, or keep your hair natural and tie it up in a short ponytail. Leave some strands out for a cool, casual look (if you have some time, you can lightly curl your bangs, layers and the hair in the ponytail).
Sandra Bullock image via Bigstock
To a wedding.
This hairstyle is dressy and feminine for the perfect wedding look. With shiny curls and a loosely tied pony, you will look stunning for the special occasion. Get the look: With a 1-inch barrel curling iron, curl all of your strands in small pieces. Tease your hair at the crown and spray some strong hold hairspray. Take a shine gloss or spray and work it from the ends until the top of your head. Leave out two face-framing strands when you tie your ponytail, and try to use a clear tie to keep it elegant. For an extra touch, clip in a hairpiece at the base of the ponytail to add a little more elegance.
Jessica Biel image via Bigstock
Perfect for work.
This sleek and low ponytail is professional and clean for work. This neat look will let you focus on the task at hand and make you look sophisticated at the same time. Get the look: Blow dry your hair sleek and straight with a straightening balm and a heat protectant spray. Go through your hair neatly with a straightener, and pay attention to all the hair pieces. Tie your hair in a low ponytail, use a little bit of gel to slick away any flyaways.
Gwyneth Paltrow image via Bigstock
Just staying in.
This casual ponytail works well for a night in. This low-maintenance look keeps it easy to style and perfect just to lounge around in. Get the look: Keep your hair natural, and casually put your hair up. That's all! The higher the ponytail, the more casual the look. If you want to add a feminine flair, leave a few strands out and keep it messy. It'll look like you put in a little bit of effort (even if you didn't).
Nicole Kidman image via Bigstock
Get personalized recommendations by building your Hair Profile or calling the Color Crew, our team of certified colorists and professional stylists. They love listening to your hair history and tailoring suggestions to suit your hair and style. At Madison Reed, we love to help people look and feel their very best!