Difference Between Semi-Permanent and Permanent?
by Shirley Chan on December 19, 2014
There are lots of secrets to great hair, and healthy-looking color is one of them. But with so many choices, i's hard to know where to start. Madison Reed is here to help with an easy guide to two main types of hair color: Semi Permanent Color and Permanent Color.
Wha's the difference between permanent hair color and semi permanent hair color?
Le's start with a quick definition. Permanent color is what people mean when they say "hair dye" or "color-treated hair." There are two parts to the permanent process: opening up the hair shaft and adding color. Semi permanent color, also called hair gloss, simply adds color. So the main difference is that semi permanent color doesn't open up your hair shaft before adding color.
Of course, there's a lot more to it than that. For example, hair gloss doesn't have to change the color of your hair. The clear Glassa shade adds incredible shine right on top of your hair color.
The full spectrum of shades is used to boost hair color and correct tone when hair has faded or looks too yellow.
Meanwhile, the complete permanent hair color process can lighten hair and embeds color more deeply into hair. This is why it provides full coverage for grays and complete hair color changes, and lasts much longer than semi permanent hair color. Madison Reed formulated Radiant Cream Color without harsh chemicals like ammonia, and included natural, nourishing ingredients for hair to stay healthier-looking, which helps the color last even longer.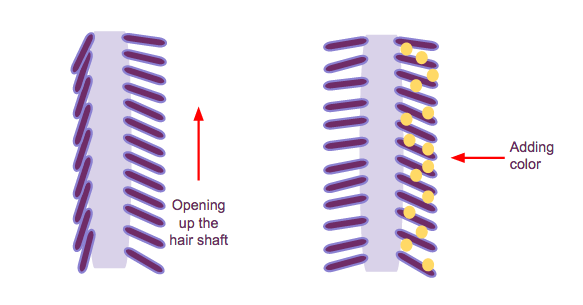 Semi Permanent Hair Color Cheat Sheet
Semi permanent hair color is also called hair gloss and adds shine
Available in clear if you don't want to change color
Use to refresh or change tone (does not lighten or darken hair)
No developer-activator required
No mixing required-use the color directly on hair
Use as much or as little as you need-reseal and keep for next time
Color lasts up 8 shampoos
Doesn't change hair structure or color permanently
Not designed for gray coverage
Permanent Color Cheat Sheet
Permanent color changes hair structure to make color changes
Use to lighten, darken, add, or change tone of your hair
Covers gray permanently
Provides full hair color coverage
Must be mixed with a developer-activator before use
Can save unmixed color for future use (but do not save mixed product)
Color lasts up to 8 weeks, depending on condition of hair
Repairs damage to prevent fading and help color last longer over time
Want more on hair gloss? Be sure to check out our how and when to use hair gloss article. And don't miss our how to apply hair color tutorial.
You may be interested in...