Behind the Scenes: Real Women as Models
by Shirley Chan {{"2015-02-04T09:53:21-08:00" | blogDate:'MMMM d, y'}}
Did you know that Madison Reed models are real women who use our products? We do it for a lot of reasons, all of which support our commitment to giving all people access to better options for hair color and hair care!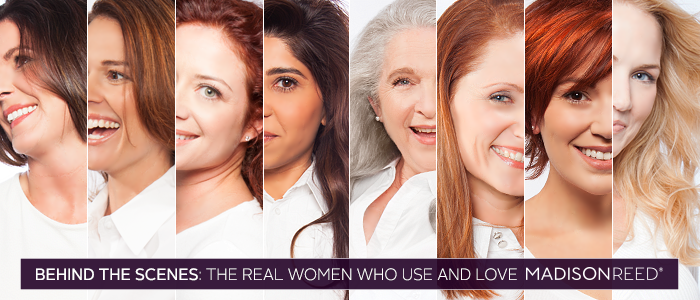 Real Results
How many commercials have you seen with a celebrity swinging her hair around to show how gorgeous it is? It's a lot of fun, but we wanted to show something more realistic. By featuring real women, we showcase the results that you can achieve with Madison Reed: on your own schedule and in your own space. It's a lot more empowering!
Getting to Know You
Hair color results differ for each person because they depend on factors like hair type, porosity, and whether it's been chemically treated in the past. Working with our models helps us understand how different types of hair respond to our products. In turn, that informs how we can translate your unique hair needs into tailored recommendations. That's why we guide new visitors to get a free consultation with our Color Crew or build a personalized Hair Profile.
Long Term Learnings
Many of our beautiful models work with Susan Roberts-Cooper, award-winning hair color expert and Director of Research & Development for Madison Reed, to try different combinations of permanent color, gloss, hair care, and products in development. We maintain this type of dedicated quality control and testing to learn how our products work together and how they treat hair over an extended period of time. It's important that we help women feel as great as they look!
Stay tuned as we introduce our models to the world by signing up for the Madison Reed email newsletter. You'll get professional hair tips, exclusive news, special offers, and more.
Follow us on Facebook, Pinterest, Instagram, YouTube, and Twitter to get expert hair tips wherever you get news. And tag @MadisonReedLLB in your Before & Afters to share your own model moments!