The 5 Hottest Hair Color Trends for Spring/Summer 2021
by Susannah Murdock {{"2021-01-06T19:41:00.000Z" | blogDate:'MMMM d, y'}}
New year, new hue? We are just happy that it's FINALLY 2021. Sure, it's only January, but the days are getting longer, and spring is right around the corner...dare we say—we see a light at the end of the tunnel? Of course this also means spring hair color trends are right around the corner, and we. are. ready. for. change. So let's ditch those wool beanies and put our hair in a ponytail to show off some fresh hair color trends for the new year! Please join us in welcoming the warmer weather with the top 5 2021 hair color shades that are as gorgeous as a sunny afternoon. Want to see how they'd look on yourself? Check out our
virtual hair color try-on tool
...let the games begin!
1.

SPRING HAIR COLOR TREND: ROOTED BLONDE

We've been seeing rooted blonde hair color shades making a statement for the past few months, and there are no signs that this trend will be letting up anytime soon. If anything, deeper roots are just getting stronger, for many reasons. First, it's a relatively low-maintenance way to be blonde, as you don't have to doggedly chase your outgrowth at the salon or at home, plus rooted hair color shades can feel less harsh than a single process look. Leaning into darker roots also adds depth and dimension to blonde hair color. We love the look in a sunny, buttery hue, or a smoky, sophisticated blonde, as seen with these roots in
Radiant Hair Color in Siena Smoky Brown
.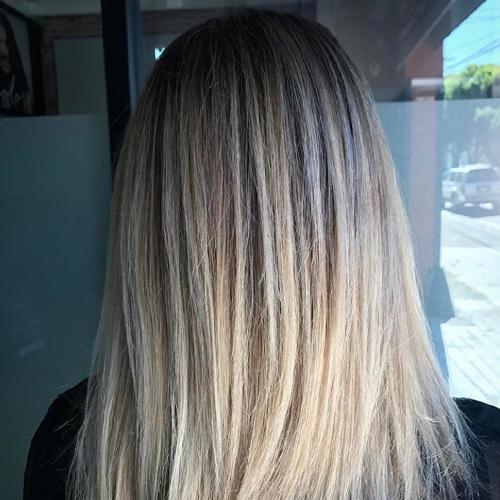 2.

SPRING HAIR COLOR TREND: COOL TONES

The weather may be warming up, but one spring/summer hair color trend for brown hair is to cool it down. Think ashy undertones rather than warm, smoky hues or brunette hair color with glints of gold. This "cool" trend is big for brunettes this season, but blondes are getting in on it, too, with muted, pearlized tones. The key to getting this look is to use neutral shades, such as
Radiant Hair Color in Dosolo Medium Neutral Brown
, as seen here.
3.

SPRING HAIR COLOR TREND: TONAL TERRACOTTA

Of course, not all shades are going cool. This spring/summer, we are also seeing a shift toward tonal terracotta hair color, shades of rich earthy cinnamon and such. Despite the cooling trend, these warm auburn tones are seen as universally flattering for any skin tone, particularly after such a looooong winter when we can all use a boost of vibrancy and glow. To jump on the terracotta train, look for multi-dimensional hair color shades to add depth and dimension, such as
Radiant Hair Color in Como Light Amber Golden Brown
.
4.

SPRING HAIR COLOR TREND: TWILIGHTS 

Move over highlights, lowlights, and babylights, spring/summer 2021 has a whole new way to brighten up brown hair. Twilights is as delicate as the name suggests...a mix of twinkly babylights and ombré highlights. We're talking tiny pops of golden flecked highlights throughout your hair. Twilights work best for brunette hair with warm undertones, any type or texture. The ombré look is low-maintenance and grows out nicely, making it as easy to apply as it is gorgeously on trend. Of course, balayage is always on trend for spring, but this year, it's taking on a new dimension with thinner, delicate application. And if you think you can only get the look in a salon from a colorist, you're in luck, because
we've made balayage highlights at home easy
. We're loving the look as seen here with our
Light Works® Balayage Highlighting Kit in Lazio Cool Toffee.
5.

SPRING HAIR COLOR TREND: TWEED 

We love a good trend with an even better name, and tweed hair is right up there with trendy spring shade names. This multi-hue trend is also sometimes called Greige, or even Rooted Greige. So what do these trendy names even mean when it comes to hair color? Think earthy stone blond or light brown hair color with a slight contrast of both warm and ash tones. This hair color trend can also incorporate another strong spring/summer trend—that of darker roots. This results in darker roots with low contrast warm and cool tones—a beautiful merging together of spring hair color trends. Once again, this spring hair color trend incorporates balayage highlights...one of our favorite examples of the greige tweed trend is this darker rooted blonde with
Light Works® Balayage Highlights in Palmi Warm Honey.
So who's ready for 2021 along with warmer weather and fresh new color?
* raises hand *
… make that...
* raises both hands *
We don't know about you, but we can't wait to try these 5 gorgeous new spring hair color trends. Tell us—which is your fave?
Share Your Photos: #MADISONREEDCOLOR
Share Your Photos: #MADISONREEDCOLOR