How to Fix Hair Color That Is Too Ashy
by Madison Reed {{"2021-07-08T22:00:00.000Z" | blogDate:'MMMM d, y'}}
It's happened to the best of us. You were trying to tame your warm undertones, and suddenly everything went up in smoke—well, ash.
In the context of hair color, "ash" or "ashy" is used to describe a grayish-blue tone. Sometimes it's exactly the all-over look you are going for (such as adding ash to platinum blonde to get a silver-vixen look). Ash simply refers to the absence of warmth, and it's great for counteracting brassy tones. Ash can be gray, blue, green, or violet-based depending on the type of warmth being covered. Madison Reed ash tones fall in the neutral/gray/blue range.
But if ash isn't the look you were going for, that's another matter entirely. These gray tones can appear because of too much toner or an ashy dye. Whatever mishap got you to this place, don't stress. Fortunately, an ash attack is not hard to fix, even on your own.
Why? Because to fix ash, you're simply depositing color to cover it up. Unlike ash, brass is a more challenging culprit that sometimes requires lifting the color a bit further, which can be difficult to achieve depending on the current level of your hair color. With ashy shades, however, you're just adding warmth, and hair is typically more receptive to warmth.
Wash that Ash Right out of Your Hair
Often, a couple of regular washes can fade these gray tones. Washing your hair more frequently than usual may help, but you'll want to be sure to follow up with a moisturizing conditioner and only increase your washing frequency for a week or so to prevent drying out your hair.
You can also try a clarifying shampoo. Also known as purifying or detox shampoos, clarifying shampoos remove color and product buildup for an extra-deep cleanse. (Do not use a color-safe clarifying shampoo; the idea here is to wash out as much color as possible.) Or you can use Prime for Perfection® to remove excess color. This hair color primer is an essential hair color prep step.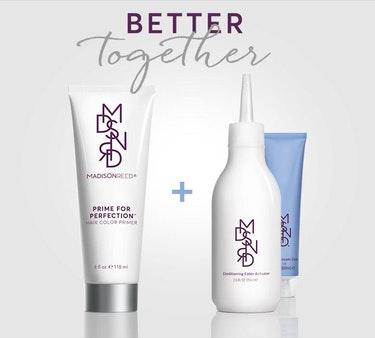 Watch Your Tone — By Using a Mask
If your highlights are feeling too cool-toned, silvery, or ashy compared to the rest of your hair, you'll want to add warm tones to your highlighted areas. Color Therapy is a luxurious, effortless, color depositing hair mask that can correct your tone. Powered by positively charged SmartDye™ Technology, this restorative treatment deposits color where your hair needs it most, enhancing color while adding intense hydration to the lengths and ends of your hair.
For lighter blonde highlights, Color Therapy in Dorato can add golden honey tones. If you're a brunette, Color Therapy in Castagna is an easy way to add subtle chestnut tones to your highlights and counteract color that's too ashy.
Use this in-shower treatment after every other shampoo in place of conditioner to maintain color. The more often you use it, the more color is deposited.
After shampooing, squeeze out excess water. Apply generously, using double the amount of your regular conditioner. Wait 5 minutes, and rinse. Wash hands thoroughly with soap and water to avoid staining.
Gloss Over It
Another great option is gloss. Color Reviving Gloss might be just what you need to add the warmth and dimension you're missing. A semi-permanent color treatment infused with hair-loving keratin, argan oil, and ginseng extract, this nourishing gloss adds the ultimate shine to your hair all while refreshing faded color and correcting tone. Give your too-cool highlights hints of caramel bronze with Color Reviving Gloss in Amaretto, honey tones with Miele, or a golden hue with Prosecco.
This semi-permanent gloss works on all hair types. Unlike permanent hair color that opens the cuticle of your hair and enters the cortex to remove the natural pigment and deposit color via a chemical change, semi-permanent gloss simply absorbs into the cuticle layer of your hair. For this reason, gloss is not meant to cover grays.
If you have more questions on how to correct hair that is too ashy—or really any hair questions at all—call or chat with our Color Crew. You can even book a complimentary virtual Video Color Consultation with a licensed colorist.
Share Your Photos: #MADISONREEDCOLOR
Share Your Photos: #MADISONREEDCOLOR