How to Lighten Your Hair Without Damaging It
by Madison Reed {{"2021-06-04T19:30:00.000Z" | blogDate:'MMMM d, y'}}
Hair color is meant to be fun—there are few ways that can change your look so quickly and dramatically. If the drastic change you have in mind means lightening your hair—and you want to do it without a trip to the salon—there several options to going lighter while keeping your hair healthy-looking.
You may have heard of DIY remedies such as lemon juice, apple cider vinegar, hydrogen peroxide, or chamomile tea to lighten hair at home. Heads up that these may provide inconsistent results or might not be the right solution for your hair. Here are some other tips here on how to take color-treated hair—yes, even very dark hair—lighter with Madison Reed.
For "Virgin" Hair: Know Your Shade
If you are rocking untreated hair (hair that's never been colored before), the first step is to identify your natural hair color. Follow these steps:
Choose a section of your hair (as far from the front of your hairline as you can easily see in the mirror), and hold it up, away from the rest of your hair. For best results, make sure you are standing in natural light.

Take a good look at the shade of hair growing out from your roots, close to your head. If what you're seeing is mostly gray, look for the color in between the grays.

Now take a look at the Madison Reed hair color chart below. Black, dark brown, medium blonde...which shade best matches your current natural hair color? That's where you're at. Look at the shades one or two levels higher, and that's where you're headed.
Our permanent hair colors range from level 2–10, with 2 being our darkest black and 10 being our light "natural" blonde. (We also carry three level 11 high lift shades, which require a personalized consultation with our Color Crew.) Why do levels matter? Levels are a kind of universal language that are less subjective than names like "dark brown."
Want to see how this lighter shade will look on you? Play around with our Virtual Hair Color Try-On Tool.
Level Up: Lighten Hair That's Never Been Colored with Permanent Color
If your hair is untreated, no bleaching is required. Instead, permanent hair dye can both lift and deposit color. However, once your hair has been color treated, permanent color will only deposit more pigment. In other words, "color doesn't lift color."
If your hair is untreated ("virgin" in hair speak), you can use our Radiant Hair Color at home to apply all-over color and lift your shade up to two levels lighter, (with the exception of the High Lifts shades we mentioned above, which give blonde hair up to three levels of lift).
Note: Permanent hair color cannot lighten hair that has already been color-treated, so jump to the next section if your hair has color on it.
Go Balayage or Go Home
You can also create a lighter effect by adding balayage highlights. A French word that means "sweep," balayage refers to a free-form highlighting technique that involves "painting" a lightener on hair for soft, natural-looking highlights. With our Light WorksⓇ Balayage Highlighting Kit, you can lift up to three levels on color-treated hair, and up to four levels on hair that has not been previously color-treated. Your results will vary depending on how light or dark your current color is. While Light Works does contain bleach, it's entirely free of ammonia.
The application process is simple, and the kit includes everything you'll need. Our Precision Wishbone applicator ensures precise, natural-looking balayage (no spots, no stripes). The clay-based cream formula means goof-proof, no-mess application. And finally, the salon-secret toning glaze perfects the tone of highlights, enhancing condition and shine.
Give Color-Treated Hair a Lift
If your hair has previously been dyed, you have a few options:
Wait it out. Fact: permanent color remains until it grows out. So it takes time to reset it to virgin hair. That being said, you can speed up this process slightly by using a clarifying shampoo, rather than one made for color-treated hair. A clarifying shampoo will slowly lift hair dye and fade it without using bleach or harsh color removers.

Before adding color, use a primer, like our

Prime for Perfection

, which helps prepare hair for color and removes excess buildup that causes color to look dull or too dark. Prime for Perfection penetrates the hair cuticle, then it dissolves previous artificial color build-up. This artificial color washes away, leaving your hair looking slightly lighter. Just like a makeup primer, a hair color primer creates the optimal base for color application. Prime for Perfection is gentle enough to use every time you color, but for best results, we recommend you use it every third or fourth time you color, or whenever you feel your color is dull or too dark.
The third option is to use a highlighting kit like

Light Works

Ⓡ

to create a multi-dimensional balayage effect. With Light Works you can lift up to three levels on color-treated hair.
Will Lightening My Hair Make it Brassy?
We can't talk about lightening without mentioning the dreaded brass effect. Whether the result of a hair bleach boondoggle, the effects of saltwater or chlorine, or the natural result of fading, brassiness can appear when and where it's least wanted. Platinum blonde becomes too yellow, golden highlights turn orange, and black fades to red.
The good news is that there are solutions to your unwanted warm tones, including a glaze or a gloss, like our Color Reviving Gloss, our Light WorksⓇ Toning Glaze (the second step of our Light Works Balayage Highlighting Kit), or our Color Therapy color depositing hair mask (an effortless, in-shower treatment in place of conditioner to refresh your hair's tone in just five minutes). Learn more tips in this blog post.

Nourish Your Hair
A key to gorgeous hair is to properly care for it before and after you add color. That is especially true when lightening your hair, which can be stressful on your strands. Always rely on a good color protecting shampoo and conditioner as part of your regimen, and try adding in a Pro Boost Treatment to seal, hydrate, strengthen or add shine. To strengthen and treat hair that has been highlighted, try our Light Works® Bond Building Cleansing Treatment, which strengthens hair compromised by the highlighting process and helps prevent breakage. This treatment contains technology that rebuilds bonds inside the hair while gently cleansing it.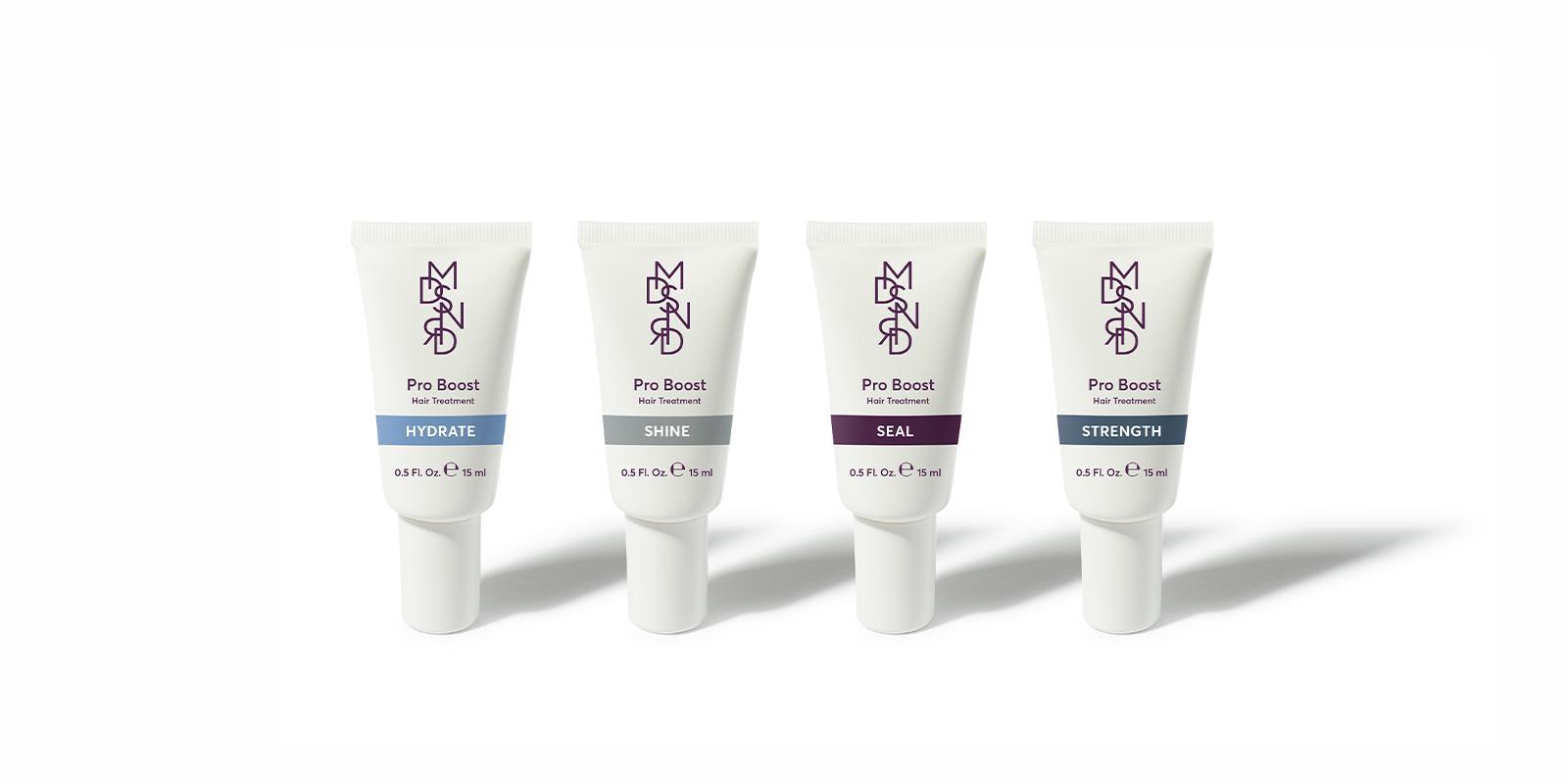 Lean on the Pros
These at-home solutions are easy and can also be a lot of fun. But if you're looking to make a bigger leap, like a transformation from black to blonde, you'll need to seek professional help. And if this all sounds scary to you, don't forget you can book a complimentary Video Color Consultation with a licensed colorist to walk you through your options, or book a session with a licensed colorist at a Madison Reed Hair Color Bar.
Ready for Liftoff
As you embark on your lightening adventure, keep in mind that leaving a dye on for longer will not make it lighter. Permanent hair dye is non-progressive, meaning it stops working after the time frame indicated. Typically the first 10 minutes is for opening the hair cuticles; during the next 10 minutes the color molecules travel through the open cuticles to the cortex of the hair shaft where the melanin resides; and during the last 10 minutes or so, the color molecules change the melanin to the target color.
Lightening your own hair may sound daunting, but we promise it can be fun. And if you're patient, careful, and take good care of your hair every step of the way, you can get fabulous results.
Looking for summer hair color inspiration? As usual, we've got you covered. Check it out here.
Share Your Photos: #MADISONREEDCOLOR
Share Your Photos: #MADISONREEDCOLOR