All You Need To Know About Straight Hair
by Madison Reed {{"2021-07-09T14:42:41.000Z" | blogDate:'MMMM d, y'}}
Straight hair seems easy...it's just straight, right? Wrong. There are different types of naturally straight hair, from fine and thin to thick and coarse, with pros and cons for all the ways hair can be straight—and yes, we're even talking about hair that's straightened using styling tools and products. So if you have naturally straight hair or just like to straighten it from time to time, read on for all the tips + tricks you need for gorgeous, healthy-looking hair.
Pros of Naturally Straight Hair
It's tough stuff! Due to a relatively streamlined structure, it's easy for the natural oils from the scalp (sebum) to make their way down to the hair shaft, giving naturally straight hair all the nourishment it needs. Because of this, straight hair remains strong during aggressive brushing, braiding, or styling.

A mirror-like shine. People with naturally straight hair can skimp on the extra shine serum because the straight surface of the hair reflects more light, can be smoother, and thus shinier.

It's easy to grow out. One of the best parts about naturally straight hair is that it's easy to grow long and strong. The hydration it gets from the sebum means it is less prone to split ends and breakage, bringing stamina and elasticity that snap back.
Cons of Naturally Straight Hair
Void of volume. People with naturally straight hair sometimes struggle with lack of body in their hair. It's often a challenge to retain thickness with hair spray alone. Naturally straight hair is usually quite smooth, which means it may need some volumizing help.
Easily greasy. Naturally straight hair follicles are smooth, so the sebum is more visible on top of the hair. The easy breezy notion "wash your hair just twice a week" doesn't cover the conditions for people with straight-hair, who look (and feel) a lot better with more regular shampoos.
A hint of humdrum. While classic and timeless, straight hair also lacks the texture needed to give it some oomph. Of course, we love the long hair, don't care approach. But straight hair is more difficult to manipulate, leading to a long hair, no flair situation.
Tips for Naturally Straight Hair
Give it a boost. When your hair is wet, massage a quarter-sized amount of Loud + Proud™ Volumizing Foam into the roots. Blow dry upside down, or with a big round barrel brush, and style it in the opposite direction to give it some volume on the top. When it's dry, spritz on the hair spray and back comb the areas that need a little more support. Want some tips for a voluminous blow out you can do at home? Check out this post.
Release the grease! Oily hair is never a good look. Minimize oily hair with a little bit of dry shampoo in between washes to maintain the good kind of gloss. Spray dry shampoo directly on your roots before bedtime—this way, the shampoo will have time to soak up the excess oils while you sleep.
Up the ante. Sometimes naturally straight hair needs a little bit of sprucing to really stand above the rest. Try an edgy bob or an asymmetrical haircut for a more visually textured and interesting presence. Or, introduce a cascading balayage for added effect. Balayage is a technique where color is literally painted on the surface of the hair with a sweeping motion for a more natural and blended look. You can give your hair that sun-kissed look all on your own with our Light WorksⓇ Balayage Highlighting Kit.
Straightening Your Hair With Heat
If you have naturally wavy or curly hair but like to straighten it sometimes, then you probably already know that hot styling tools, like the flat iron, are a common go-to. A word of caution for straightening pros and newbies alike: if your hair is dry, under-conditioned, or damaged, flat ironing will likely make things worse. That's because hot styling tools strip hair of moisture, causing dryness and breakage. Nurse your hair back to health before you go thermal.
If your hair can take the heat, we recommend heat styling be done no more than once per week. Make sure your hair is freshly shampooed, conditioned, and completely dry before using a flat iron, otherwise you'll be cooking in oils and dirt, which will only make things worse. Keep an eye on the health of your hair along the way. And if your hair is color treated, consider maintaining both the color and the health of your hair with our nourishing Color Protecting Shampoo and Conditioner.
Keep Your Cool—Straightening Your Hair Without Heat
Here are some tips for straightening your hair without thermal styling tools:
Blow dry with cold air: Let your hair air-dry about 3/4 of the way, then use the "cool" setting on your blow-dryer. Move your dryer continuously from root to tip and keep it about six (6) inches away from your hair. You can aid the process along with a straightening serum or spray-on leave-in-conditioner.

Wrap your hair: It works, but it's an art! Watch a YouTube tutorial (there's plenty of them) geared for your hair type. You'll need long bobby pins as well as a satin hair wrapping scarf, bonnet or turban.

Use jumbo rollers: We know, it sounds like a contradiction, but large rollers can actually straighten your waves. Your hair won't be pin straight with this technique, but you'll have plenty of volume. Again, YouTube tutorials are your friend here.

Try products: There are shampoos, conditioners, soothing serums, and more aimed at smoothing and styling your hair. Experimenting with these products is a safe alternative to hot styling. You can also try a DIY hair mask. Hair masks that are protein boosting tend to make curly hair appear more smoother. Check out our Pro Boost: Strength and Pro Boost: Shine for treatments to help smooth your tresses.

Sleep with your hair wet: Tie a loose ponytail at the top of your head and create a bun shape by wrapping your hair around that ponytail and securing a satin scrunchie. Satin is key! Sleeping on a satin pillowcase is also a good idea, as it will cut down on friction.
Keep in mind that styling your hair a certain way every day can "train" your hair to fall a certain way, but it can also lead to dryness and damage. Be kind to your curls and waves—they're also gorgeous!
The Science of Straight Hair
For those who like a bit of beauty science, let's dive in. Also known as "Type 1," straight hair develops its structure from the shape of the cortex (this is the middle and thickest layer of your hair shaft). The fibers of the hair are round, allowing it to drop evenly on all sides of the scalp. Straight hair is also defined by its protein structure and the disulfide bonds that occur between those proteins. It has little to no hook at the end of the follicle (bulb), which keeps it from growing at an angle. Variations don't normally occur in straight hair, but they do in thick hair. In many cases, hormones and certain medications will change the texture of the hair, causing it to grow in a different way than how it was originally formed. Below are three (3) main types of straight hair:
Straight hair: Type 1A (fine)
This type of straight hair is soft and shiny, but thin and wispy; a true champion of the hair flip. It's very easy to manage and style, but often needs a little bit of lift at the roots. A hairstyle we recommend for finer hair is swept to the side — for an instantly sexy look that you can blow dry. Make sure to settle on a style with layers, as this gives the illusion of more depth and volume. Fine hair has a soft texture, but it definitely requires a little more attention to stay alive and shapely.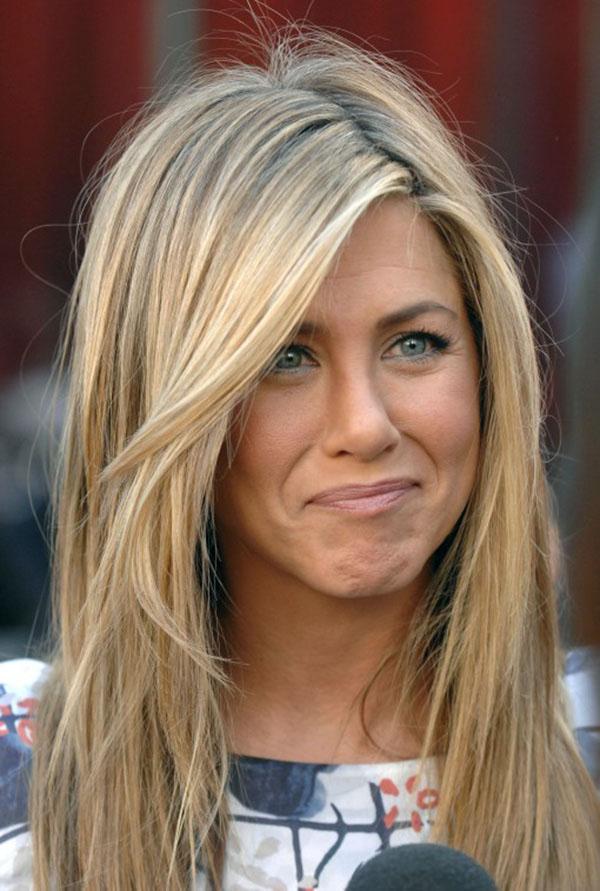 Straight hair: Type 1B (medium)
With a little more strength and body, medium straight hair is supple and very easy to manage. A sleek ponytail is the perfect candidate for this look, for it's thick enough to give the hair some shape, but not so thick that it breaks rubber bands in the process. Additionally, 1B's can enjoy a little curl from time to time, since the medium grade can hold a curl with better ease and longevity.
Straight hair: Type 1C (coarse)
1C straight hair is coarser and more challenging to bend in waves or curls, rather coiling in with one or two visible "S" waves. Long and layered is the way to go here, otherwise it might be a little too hard to handle. This is the most tenacious of all straight hair types, but it's also a bit more difficult to manage, because of its thickness. That being said, take advantage of its pluck and wear it long and parted down the middle, rock a lob, or experience the magic of a true halo braid. Your functionality is boundless.
Whether you're rocking naturally straight hair or your use a flat iron to get there, we hope you'll have fun with some of these tips.
Related: how to straighten hair without heat.
More: Here's All You Need to Know About Wavy Hair or learn All You Need to Know About Coily Hair.
More Madison Reed Hair Color Information:
Originally Published: March 17, 2015
Updated: July 8, 2021
Share Your Photos: #MADISONREEDCOLOR
Share Your Photos: #MADISONREEDCOLOR