All You Need To Know About Straight Hair
by Shilpi Tomar {{"2015-03-17T07:41:41-07:00" | blogDate:'MMMM d, y'}}
Resilient, silky, and robust, straight hair is an often-coveted, universally flattering hair type. It's always in style, and it gives a sleek, put-together look to the person wearing it — one of the reasons hair straighteners have become popular. At Madison Reed, we want you to feel beautiful no matter what your hair type, but whether you have straight hair, or are just interested in getting there, read on for more details.
Pros of straight hair
It's tough. Since it's easy for the natural oil from the scalp (sebum) to make its way down to the hair shaft, straight hair has all the nourishment it needs, and can handle serious brushing and styling.
Mirror-like shine. Women with straight hair can hold off on the extra shine serum. The straight surface of the hair reflects more light, and therefore more shine.
It's easy to grow out. One of the best parts about straight hair is that it's easy to grow long and strong. The resilience and hydration it gets from the sebum also make it less prone to split ends and breakage. Dryness? Not usually a problem.
Cons of straight hair
It lacks volume. Time and time again, women with straight hair have come back to this common issue with straight hair: the lack of body. It's often a struggle to keep the volume up with just hair spray.
It gets greasy easily. Since straight hair follicles are smooth, the sebum is more visible on the top of the hair. The whole "wash your hair just twice a week" rule has definitely been thrown out the window for straight-haired women.
It can get boring. Although straight hair is classic and timeless, it also lacks the texture needed to make it more interesting. This is a common struggle, since straight hair is not so easily manipulated.
Straight Hair Tips
Give it a boost. When your hair is wet, add a quarter-sized amount of mousse to the roots and give it a little massage. Blow dry your hair upside down, or with a big round barrel brush, and style it in the opposite direction to give it some volume on the top. When it's dry, spritz on some hair spray and back comb the areas that need a little more help.
Release the grease. Oily hair is never a good look. Separate those hair clumps with a little bit of dry shampoo in between washes. Spray it on your roots before bedtime — this way, the shampoo will have time to soak up the excess oils. Pro tip: Madison Reed Root Touch Up makes a great dry shampoo!
Edge it up. Sometimes straight hair needs a little bit of spicing up. Try an edgy bob or an asymmetrical haircut for a more visually textured and interesting look!
Straight hair - Scientific Structure
Straight hair, also known as Type 1, develops its structure from the shape of the cortex. The fibers of the hair are round, making it drop evenly on all sides of the scalp. Straight hair is also determined by its protein structure and the disulfide bonds that occur between hair proteins. It has little to no hook at the end of the follicle (bulb), which keeps it from growing at an angle. It doesn't change much in straightness, but it does change in thickness. In some cases, hormones and certain medications can change the texture of the hair, making it grow in a different way than originally formed.Here are the three types of straight hair.
Straight hair: Type 1A (fine)
This type of straight hair is soft and shiny, but thin and wispy. It is very easy to manage and style, but it often needs a little bit of lift at the roots. A hairstyle we recommend for fine hair is swept to the side — for an instantly sexy look that you can blow dry. Make sure to get a hairstyle with layers, for an appearance of more depth.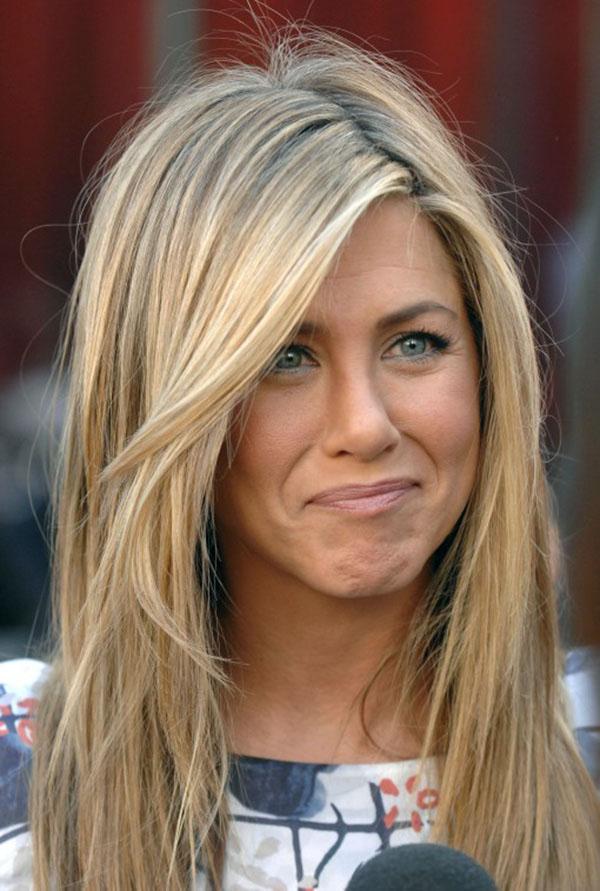 Straight hair: Type 1B (medium)
Since it has a little bit more volume and body, medium straight hair can be very easy to manage. A sleek ponytail is the perfect candidate for this look, as it's thick enough to give the hair some style, but not so thick that it breaks rubber bands in the process. This sophisticated look can be worn anytime.
Straight hair: Type 1C (coarse)
This type of hair is usually stick-straight and difficult to make in waves or curls, instead coming in with one or two visible "S" waves. Long and layered is the way to go here, otherwise it might be a little too hard to handle. This is the most resilient of all straight hair types, but it's a bit more difficult to manage, because of its thickness. Take advantage of its resilience and wear it long and parted in the middle.
Related: how to straighten hair without heat.
More: Here's All You Need to Know About Wavy Hair or learn All You Need to Know About Coily Hair.
More Madison Reed Hair Color Information:
Share Your Photos: #MADISONREEDCOLOR
Share Your Photos: #MADISONREEDCOLOR