Be Mine, Valentine's Hair
by Susannah Murdock {{"2017-02-09T20:52:00.000Z" | blogDate:'MMMM d, y'}}
Roses are red, violets are blue, we think you should try, a gorgeous updo. Whether you're spending the evening out with your love or having the time of your life with your besties, Valentine's Day is a great excuse to try something new with your hair. We came up with a few gorgeous styles that are elegant enough for a special night but easy enough to recreate at home. They may not be roses or chocolates, but consider the following three looks our Valentines to you.
Grab a bunch of bobby pins and let's get started…
Braided Bun
If this style were a romantic comedy, it would be...Pride and Prejudice. We're pretty sure every one of the Bennett sisters wore their hair this way at some point in the Keira Knightley version.
This laid-back style is a little bit bohemian and a lot romantic. Begin by plaiting your hair in two braids. Don't worry if they're not perfect—it's even better if they look a little messy.
Next, loosen your plaits up with your fingers so the strands are pulled slightly apart. Tie your braids back in a simple knot (two knots if you have very long hair). Use bobby pins to secure your braids to the back of your head.
If you can, tuck or pin a few sprigs of flowers into your updo as a lovely reminder that spring is just around the corner. Don't worry about any wispy tendrils escaping from your braids—this style looks best when it's soft and a little undone.
Messy French Twist
If this style were a romantic comedy, it would be...Amélie. French, cute, a little bit dramatic.
A voluminous take on the classic French twist...begin by parting your hair dramatically to the side. Then brush and section off the front parts of your hair—from behind the bangs back to the crown—to reserve for later. Next, pull the rest of your hair into a middle ponytail (not too high, not too low) in the center of your head. Roll your ponytail slightly to the side and tuck it into a twist, pinning your hair up as you go. You can create a little added messiness here by pinning any pieces that fall out back in again at random.
Now, backcomb the reserved front section and pin what will reach back into your updo. Let the pieces that don't fall effortlessly forward. Voilà.
The deep side part adds a fun dash of drama to this sleek, sophisticated look.
Faux Bob
If this style was a romantic comedy, it would be...Never Been Kissed. Drew Barrymore isn't really in high school, and you didn't really cut your hair.
This look is probably the easiest to do on yourself, so it's a good go-to for whenever you're a little bored with your everyday look. It also works especially well for fine hair and hair that's an in-between length. Begin by curling your hair and brushing it out while it's still warm. You want soft wavy texture, not ringlets. Next, twist your slightly-undone curls around two fingers, then pin at the nape of your neck.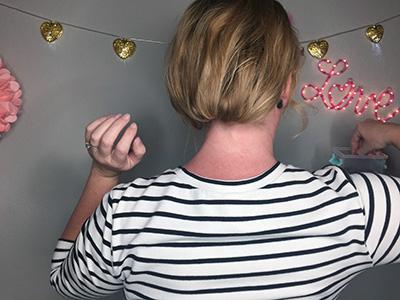 Allow a few front pieces to fall forward in the soft, wavy shape you've created with your fingers. You may want to twirl these pieces around your fingers again for some added definition.
We love pairing this look with a rich red, deep wine, or dark plum lip. It's a jazz era throwback, after all.
Happy Valentine's Day!
XXOX,
Madison Reed