Ten Spring Hairstyles We Love
by Shilpi Tomar April 16, 2015
The arrival of Spring brings with it the promise of new beginnings, and of cool, crisp mornings heading into long summer days. Why not freshen things up with a new hair style? You might love it enough to wear well into summer. Here are a few styles that the hair-forward crew at Madison Reed recommend for this spring:
Shoulder Length Waves.
These waves aren't just for long-haired beauties anymore–mid and shoulder-length is in. And a little bit of boho never hurt anyone.

Jennifer Garner image via Bigstock
Get the look: Try blow drying your hair the night before until it's about 75% dry, then braid it into three different pieces, starting from the base. Next, braid those three pieces together, and get your beauty rest. In the morning, simply set those braids free. Add some sea salt spray for extra texture. This look works best with straight and wavy hair.
Soft curls.
Soft, bouncy girls are always on trend. They not only give you a feminine feel, they also soften up your entire appearance.
Julia Roberts image via Bigstock
Get the look: Spritz hair with a flexible hold hair spray and run a comb or brush throughout the hair. This lets it mold to the hairstyle without getting too stiff.  Use a 1.5 inch barrel curling iron, to curl just the ends. Use a stronger hold hair spray to seal it all in. This look works best with straight and wavy hair.
Wavy chic.
Pulled back just enough to give away a little texture, this style gives you a gorgeously done (yet undone) look you can wear for a casual night in or to a spring soireé.
Maria Bello image via Bigstock
Get the look: Use a diffuser when you blow dry your hair to give it some volume at the crown. Add some styling cream for texture, and a bit of shine spray to give those individual pieces some love. Then, loosely pull back your hair and leave out a few strands. You can clip, tie, or pin the back to put it all together. This look works best with wavy, curly, and coily hair.
Straight and Sleek.
Get gorgeously sleek with stick-straight hair for spring. If your hair is long, this look works even better–and can give you an effortlessly sophisticated look for work or play.
Halle Berry image via Bigstock
Get the look: Use a straightening serum before blow drying your hair, and a heat protectant before using the straightener. To make it extra sleek, smooth out with a shine serum at the end and don't shy away from straightening some strands twice. This look works with any type of hair.
Neatly tucked away.
This style evokes the perfect put-together-yet-still-having-fun look that can be worn on any occasion.
Gwen Stefani image via Bigstock
Get the look: Spray a comb with some strong hold hair spray, and comb it through the top portion of your hair near your scalp. Keep combing until all the flyaways are neatly tucked in. Then, curl the bottoms of your hair with a 1 inch curling iron. Use some hair spray all over the hair to seal it all in.
The Boy Cut.
Bold and beautiful, this look lets your edgy self come out. If your comfort zone is anywhere to the right of tomboy, and you're looking to stretch those boundaries, this look could be perfect for you.
Maggie Gyllenhaal image via Bigstock
Get the look: It's all in the cut. Make sure to bring a picture of your favorite celebrity or model with the same hair type as you. Communicate specifically how short you want the buzz to be to your stylist.
The Asymmetrical Bob.
Bobs have always been in style, but the asymmetrical bob gives a brand new twist to the classic do.
Anne Hathaway image via Bigstock
Get the look: This look is so low-maintenance that not much styling is required. Just back comb your hair at the crown and on the sides for a little bit of volume and wear your hair naturally.
Clean Sweep.
Sometimes the simplest solutions are the most striking. Show off your gorgeous cheekbones by sweeping your hair back neatly away your face. 
Rose Byrne image via Bigstock
Get the look: Blow dry your hair until it's 90% dry, then make a parting on the side. Spritz some hair spray on a comb, and comb your hair back until the baby hairs and flyaways are gone. Then, tie, clip, or pin back your hair. This look works best with straight and wavy hair.
Low ponytail.
Another relaxed way to put the focus on your face is to tie your hair up in a low ponytail. This can be worn neat or messy, for a low-maintenance, trendy look.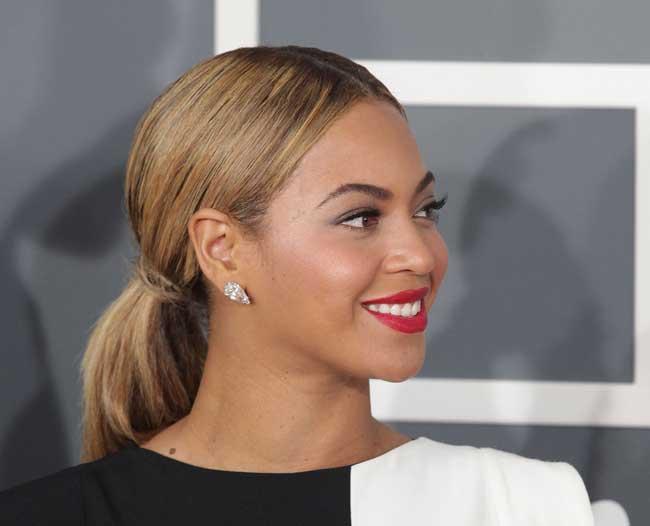 Beyonce Knowles image via Bigstock
Get the look: Getting your hair into place is key, so make sure to cleanly comb the pieces back and get every single hair with the hairspray on comb method. If you're going to wear it messy, back comb your hair a little bit and leave a few strands out. This look workes best with straight and wavy hair. 
Ballerina bun.
It's not just for ballerinas any more–this style is making its way on the runways, red carpets, and with the ever-so-stylish.
Diane Kruger image via Bigstock
Get the look: To achieve this look, blow dry and straighten your hair stick straight (with the use of a straightening balm or cream). Then, make a tight and smooth ponytail (use the comb with hairspray method to get the flyaways out). Using a sock bun, smooth it right on to the base of the ponytail and pull the strands out, tucking them and twisting them under a bun. Secure the extra pieces with some bobby pins.
Get personalized recommendations by building your Hair Profile or calling the Color Crew, our team of certified colorists and professional stylists. They love listening to your hair history and tailoring suggestions to suit your hair and style. At Madison Reed, we love to help people look and feel their very best!
Share Your Photos: #MADISONREEDCOLOR