Dear Color Crew: Why Is Blonde Hair Harder to Color and Maintain?
by Gena O'Brien August 28, 2019
Photo by Alex Suprun on Unsplash
Dear Color Crew is a recurring blog post where we answer hair-related questions–no matter how hairy they may be–from readers like you. Got a question? Email our team of professional colorists at ColorCrew@Madison-Reed.com.
 
Dear Color Crew,
I have dark brown hair and really want to go blonde, but I keep hearing about how hard it will be to go blonde. Why is it so hard? And what would I have to do to keep my blonde hair looking its best?
 
Whether you're a natural blonde or blonde by bottle, you're correct—blonde hair can be difficult...difficult to obtain, and difficult to maintain. Of course, blondes have more fun and all that, so some believe gorgeous, flaxen locks are worth the high maintenance hassle, and who are we to argue? However, we do suggest that if you want to go from very dark hair to all-over blonde, that you go to a professional colorist who will know how to minimize damage, because the truth is—going lighter requires some level of damage to your hair. Unfortunately, color does not lift or lighten color, so you cannot simply "color" your hair blonde from a darker shade. A lightening agent, a.k.a. bleach, will need to be used to open the cuticle and remove the hair color pigments from within the hair shaft. This can weaken your hair, which is why it's important to first determine if your hair is healthy enough to go blonde. If it is healthy enough, it's equally important to care for blonde hair differently.
The first rule of blonde hair is simple but tricky: patience. That is, the only way to go from very dark hair to overall blonde hair in one appointment without having your hair actually break off is to get a wig. Seriously. Don't try this at home, and don't believe any colorist who says she can take you from brunette to platinum in one sitting. Going from brunette to blonde takes time and more than one appointment. And depending on how much lighter you want to go, you may have to live with an "in between" shade for a bit as part of the process. Initially, lightening darker hair exposes warm tones, so your lighter hair may be warmer than you want. Eventually, you can probably get to an ashier/cooler tone if you want, but that, too, takes time.
Blonde hair can also be more expensive since it can take a few appointments to get there. Then, once you are blonde, there may be more upkeep. You will need to stay on top of your roots to do what is called a "base break"—this means breaking up or blending the line of demarcation in your roots between your lightened hair and your darker roots. The frequency of doing your roots will depend on how much lighter your blonde is from your natural hair color. 
In addition, maintaining blonde hair can be more expensive and time-intensive. Once you go blonde, you may want to invest in a purple shampoo that will counteract any yellow tones in your hair. This will help keep your blonde hair bright and sunny. If you have hard water in your shower, you can also alternate with a clarifying shampoo, to prevent and control mineral deposits from hard water. If you are a frequent pool swimmer, you will also want a swimmer's shampoo to keep your blonde from turning green. Better yet—wear a swim cap when in chlorinated water.
Over time, hair that has been considerably lightened can lose its shine and look dry. So a weekly deep conditioner is a good idea. Even better? Try a weekly bond building treatment to strengthen blonde hair and prevent future breakage.
Luckily for blondes (make that any hair color!), there are now so many fantastic glazes and toners on the market to keep your hair color as shiny and fresh as the day you colored. For blonde hair, we recommend applying a demi-permanent toning glaze every few weeks to reduce brassiness, condition and lock in shine. Both glosses and toners smooth the surface of the hair which makes it look healthier and shinier. 
Lastly, blonde hair can be more fragile, so make sure you use a heat protectant when using a blow dryer, curling iron or straightener. 
Got any more hair-related questions? Email the Color Crew, 'cause we've got answers.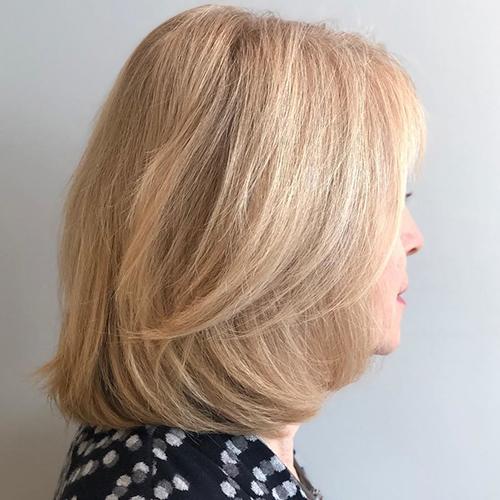 Share Your Photos: #MADISONREEDCOLOR