The Best Oils for Hair
by Madison Reed {{"2021-07-06T19:00:00.000Z" | blogDate:'MMMM d, y'}}
It seems like every day there's a new hair oil that's all the rage. Coconut, olive, mongongo, grapeseed, avocado, almond, argan, and baobab oil—it's hard to keep track! We're breaking down all their unique benefits so you can decide which oil is best for you and your hair.
Almond Oil
Almond oil has been used since ancient times to treat dry skin conditions and improve skin tone. It's an emollient, which means it works on a cellular level to fill in gaps in your skin and hair, resulting in hair that is silky and smooth to the touch. Almond oil also contains high amounts of vitamin E—a natural antioxidant that combats the environmental stress around your hair keeping it looking younger and healthier. The lubricating properties of this nut oil also helps to diminish friction during hair styling, reducing breakage and split ends. Almond oil can even be used to combat flaky scalp and psoriasis.
Argan Oil
It seems like everyone is talking about argan oil—and for good reason! Argan oil has become a favorite cosmetic ingredient in both hair and skin products because it's nourishing, hydrating, and is packed with vitamins A, C, and E. It's also loaded with antioxidants, linoleic acid, and omega-6 fatty acids. Argan oil nourishes hair from root to tip, and its vitamin E component can help repair damaged ends and protect hair from future breakage.
Where does argan oil come from? Argan oil is cold-pressed from the nut-like kernels from the fruit of the Moroccan argan tree. Fun fact—these kernels are so nutritious that goats climb the trees just to eat them! Traditionally, local women would find undigested kernels in goat dung, and smash the kernels with stones to grind and press the oil. Although some areas of Morocco still use this traditional method, most argan oil is now produced from more modern harvesting technologies—which means no dung required! Because argan oil is such a popular product and comes from an endangered tree, the United Nations Educational, Scientific and Cultural Organization (UNESCO) officially protected the trees in 1998. Conservation and cultivation efforts for the argan tree ensures that the trees will continue to thrive and jobs are sustained for local women.
Argan oil is such a wonderful multi-tasking ingredient, here at Madison Reed, we've put it in nearly every product we make! From the Madison Reed Permanent Hair Colors to our Shampoos and Conditioners and whole range of Styling Products. Argan Oil is indeed the superhero of oils that can do wonders for reviving dry, dull and tired hair.
Avocado Oil
Avocado oil is another lightweight oil that makes it a great option for adding moisture and shine to thinner hair types without making it look flat or greasy. Avocado oil also works wonders for all hair types including thicker, higher-density strands, as it penetrates the hair and scalp as opposed to clogging or sitting on the surface. Avocado oil contains biotin, which can promote the growth of healthier, thicker, and longer hair. It also contains minerals that can help seal the cuticle—as well as moisturize, repair, and strengthen your hair to prevent future damage.
Baobab Oil
This not-so-well-known oil is derived from the seeds of the fruits of baobab trees, found in mainland Africa, Madagascar, and Australia. Characterized by their longevity (some baobab trees live up to 1,000 years), baobab trees are considered incredibly nourishing, with cork-like bark that can be used to make rope and clothing, as well as large water stores that can be tapped in periods of drought. Once a year, the flowers on baobab trees bloom and when pollinated, create seed-filled fruit. Baobab oil is then extracted by cold pressing the fruit seeds.
Baobab oil is super nourishing and moisturizing containing vitamins A, D, E, and F. These vitamins are not only moisturizing but can also help rejuvenate damaged skin cells. In addition, baobab oil is rich in omega-3 fatty acids and is known to easily absorb into the skin and hair without leaving any greasy residue that is often expected with natural oils. On its own, baobab oil is viscous and has a silky feel with a mild scent. It can be easily blended into cosmetic products or used on its own.
Also intensely hydrating, baobab oil helps to protect hair from heat and environmental aggressors like pollution, sun, wind, and extreme temperature. We love baobab oil so much we put it in our most popular styling product TAME. Tame is a powerful smoothing cream that can be used on wet hair before styling. Tame not only traps moisture into the hair shaft, but also protects from heat styling and environmental aggressors all through the day.
Coconut Oil
We can barely contain ourselves when we talk about coconut oil! Coconut oil is the industry's most loved oil for adding luster, shine, and softness to hair. It also prevents hair breakage and split ends and contributes to hair growth. Thanks to its anti-fungal composition, coconut oil works well as an anti-dandruff remedy and is a great treatment for maintaining healthy hair and scalp when incorporated regularly into your hair care routine. Coconut oil is also 100% natural and free of silicone, alcohols, and other chemicals that can irritate sensitive skin and hair. It provides gentle, yet effective sulfate-free cleansing that hydrates hair and controls frizz.
A study published in the Journal of Cosmetic Science compared the effects of mineral oil, sunflower, and coconut oil on preventing hair damage. While sunflower and mineral oil are the two most used ois in the hair care industry, the study showed that coconut oil is one of the best oils to penetrate deep into the hair and reduce hair protein loss. When hair absorbs coconut oil, it also increases in diameter, adding extra volume to the hair.
To get all that coconut-y goodness into your own hair, check out Madison Reed's Let's Bounce. Let's Bounce is a curl hydrating and defining cream that provides a soft and flexible hold, and loads of moisture to keep those curly locks looking healthy and frizz free.
Grapeseed Oil
Until recently, grapeseed oil has been mostly ignored as a byproduct of the wine and juice making industries. Now, because of its extremely light consistency, grapeseed oil has become the darling of the beauty industry. It is prized for its linoleic acid, which is a fatty acid necessary for the function of our major organs (even though we don't naturally produce it ourselves). Not getting enough linoleic acid can lead to hair loss and dry skin, scalp, and hair.
As we age our scalp produces less sebum—the oily substance that naturally keeps our hair vibrant and shiny. Grapeseed oil can restore your hair's natural shine and fight dandruff caused by dry scalp, without weighing it down.
Mongongo Oil
Derived from the fruit that grows on the manketti tree and native to southern Africa, mongongo oil is only just emerging as a popular cosmetic additive in the United States— but it has been used for centuries in Africa.
The seeds of the mongongo fruit contain vitamin E, calcium, copper, and zinc. The oil is high in polyunsaturated fatty acids, which stay present on skin and hair longer than saturated fatty acids (like those you find in coconut oil or jojoba oil). Throw in its alpha-Eleostearic acid with its long-lasting consistency, and you've got a natural UV-protectant. The oil's linoleic acid also calms inflammation, which is why some use it to treat skincare issues like eczema and rosacea.
All in all, mongongo oil is a powerful superfood that strengthens hair and protects it from heat styling damage. Whether used raw, or as an added ingredient, mongongo oil is effective in fortifying and protecting your hair. You'll find mongongo oil in our most loved smoothening cream, Tame, along with keratin, argan oil and ginseng root, to really nourish hair and keep those frizzies at bay.
Olive Oil
Like almond oil, olive oil's primary chemical elements are emollients, which means they have brilliant softening qualities. In fact, many shampoos and conditioners contain lab-made versions of emollients. However at Madison Reed, we prefer the natural ones.
Olive oil can help soften hair, minimize frizz, and seal in moisture to improve hair elasticity and reduce breakage. If you struggle with dry scalp, olive oil can also help restore lost ceramides and oils. However, some people should avoid applying olive oil to the scalp entirely as it could lead to increased dandruff production.
For all that luscious olive oil goodness, check out Madison Reed Sleek Attack. It's rich cream formula smooths and conditions the hair and helps to reduce dryness and frizziness. It's especially formulated for medium to coarse wavy hair and is also safe for color treated hair.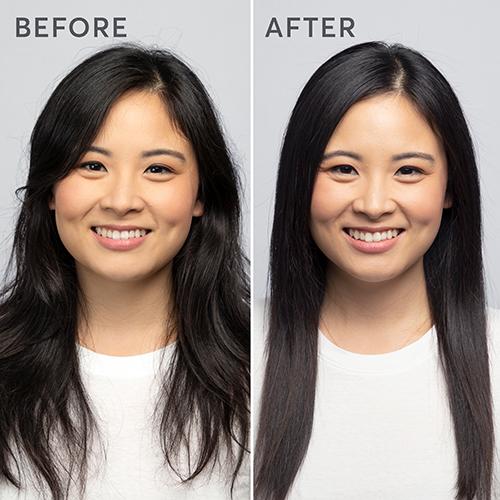 Originally Published: 3/15/2017
Updated: 07/06/2021
Share Your Photos: #MADISONREEDCOLOR
Share Your Photos: #MADISONREEDCOLOR