Field Guide to Hair Brushes and Combs
by Michelle Lemire {{"2015-01-19T18:20:58-08:00" | blogDate:'MMMM d, y'}}
Many of us tend to use the brushes and combs our family or friends have introduced us to, not giving a thought to how different our hair may be from theirs. Along the way we may find different brushes that feel better on our scalps or do a better job of getting the tangles out of our hair, but did you ever wonder why there are so many brushes available in the first place?
The fact is, using the right brush or comb for your hair type and texture is essential for better hair care and styling. Especially if you want to prevent breakage, get great style, reduce frizz, and generally keep your hair looking healthy and beautiful.
Start with these three factors to help you determine what kind of brush or comb you should use:
Is your hair type straight, wavy, curly, or coily? Is your hair texture baby fine, thick and heavy, or right in between?
Are you doing a blowout? Styling curls? Smoothing flyaways?
Are you trying to brush wet hair? Detangle knots?
What kind of hair do you have?
What you're trying to do with your hair?
What state is your hair in?
Once you've determined these three things, you can start looking at the kinds of brushes available and make an informed decision about which one is right for your hair.
Hair Brush Shapes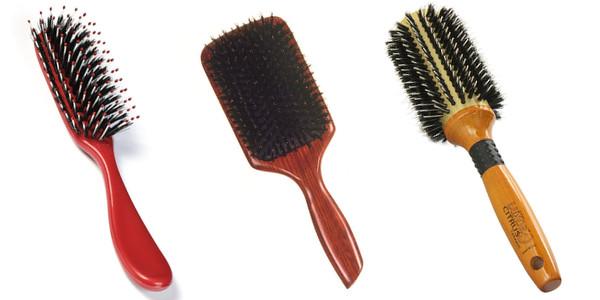 photos via Amazon
Types of Hair Brushes
Half-Radial or Styling Hair Brush (For all hair types and textures) A styling brush is a curved brush with natural or synthetic bristles resting in a cushion on one side of the brush. As the name suggests, these brushes are perfect for styling hair, creating volume at the roots, and flipping hair up or curling it under. While these brushes are good for all hair types, they are especially great to use with a hair dryer to add waves to thicker hair.

Paddle Hair Brush (For straight hair, all textures) A large, flat brush, the paddle brush can be rectangular or oval. They generally have softer natural or synthetic bristles that sit in a cushion on one side of the brush. A good go-to brush, the paddle brush works best for straight hair blowouts, smoothing, detangling, and flattening frizz, but doesn't add much in the way of volume. It's also good for massaging your scalp and releasing loads of shine.

Radial or Round Hair Brush (For blowouts, all hair types and textures) Round hair brushes have natural or synthetic bristles all the way around the head of the brush. With or without vents, a round brush and a hair dryer are essential tools for shaping hair into just about any style. These brushes come in a multitude of sizes from the very small for tighter curls to the very big for smooth, lucious waves with lots of volume. Consider your hair length and the style you're trying to achieve when deciding which size round brush you should use.
Types of Hair Brush Bristles
Natural Bristle Brush (All hair types and textures, especially good for fine hair texture) Natural bristles are softer than synthetic bristles, if a little more expensive. These bristles, usually made of boar bristles, help to smooth hair cuticles and distribute your hair's natural oils. Whether your hair is straight, wavy, or curly, natural bristles are gentler on you hair, and will help make your strands stay healthy and shiny.

Synthetic Bristle Brush While synthetic bristles are less expensive and might not create as much static as natural bristles, they are much less flexible. In fact, their stiff nature means they are more likely to break your hair—so definitely avoid using on fine hair—and they aren't any help at all when it comes to distributing your hair's natural oils.

Mixed Bristle Brush (All hair types, medium to thick texture)

A brush with a combination of natural and synthetic bristles is excellent for all hair types. You get both the shine-inducing benefits of the natural bristles and the detangling benefits of the stiffer synthetic bristles. In fact, mixed bristle brushes are especially good for working tangles out of thicker, coarser hair.
Specialty Hair Brushes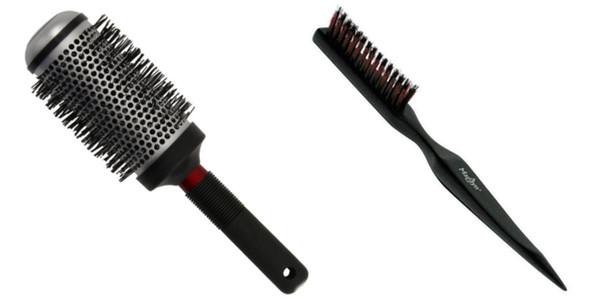 photos via Amazon
Vented Brush (For volume) Any shape brush with vents will speed up hair drying time by allowing air from the dryer to blow through the brush and reach the hair from all angles. Round brushes are often vented to allow for quick styling while drying. The vented brush is good for creating volume for all hair types and textures, however they don't work as well on hair that is prone to static, because they aren't necessarily designed to smooth hair.

Teasing Brush (For styling) While teasing brushes are made—obviously—for teasing hair, using a brush with natural bristles will at least be more gentle on your hair. You can use a teasing brush to style volume into any hair type or texture, just be careful how much you tease to avoid breaking hair. For more on hair brushes be sure to read our How to Clean a Hair Brush article.
Teasing Combs
photos via Amazon
Common Types of Combs
Fine Tooth Rattail Comb (For smoothing or teasing) A great styling tool for any hair type or texture, the teeth of this comb allow you to smooth stray hairs, bumps, and cowlicks, or lightly tease hair. The handle of the comb also helps you section out locks for braiding, curling, or flat ironing. You can even use the rattail handle to section hair for applying hair color.

Wide Tooth Comb (For detangling wet hair) The best choice for detangling wet hair, a wide tooth comb can be used on any hair type or texture without pulling and breaking your hair the way brush bristles can. Wide tooth combs are also great for pulling hair color through hair and ensuring thorough color saturation.
Online
Offline
Questions about color?
Ask our Licensed Colorists
Monday through Friday: 6am to 6pm PT
Weekends & Holidays: 8am to 5pm PT