8 Brown-Haired Beauties to Follow on Instagram
by Susannah Murdock April 03, 2019
Ranging from light, sandy brown to toasted caramel to very nearly noir, if you're looking for brunette #hairspiration (that's hair inspiration), then Instagram is the place to go for a wide range of beautiful brown shades. Here are our 8 picks for feeds to follow for delicious brunette hair...
Farah from @farahdhukai

That hair! What is that—3 feet? 4 feet (?!) of seriously the most insanely gorgeously glossy espresso locks. Farah's Instagram feed is full of fun, helpful makeup, skincare and beauty DIY tutorials, but it's her hair that we can't get enough of...it's seriously beyond beautiful.
Sara from @sarahangius

Sometimes it's straight and sleek, other times it's curly, but no matter how she styles it, Sara's caramel-colored hair is definitely double tap-worthy. An ex-hair stylist, she also posts pro tips + tricks for how to care for your hair and tutorials on how to style it. Serious Instagram #hairinspo.
Lisa from @thisorganicgirl

Technically, Lisa is not brunette but almost 100% gray, but this clean beauty and lifestyle blogger proves that gray hair is 1000% aspirational. Scroll through her feed to watch her decision to transition from cool, espresso hair to her naturally striking salt and pepper gray. As she says in one of her posts, "Forget sexy, I'm bringing gray back!" And we couldn't agree more. This is one sexy brunette-turned-silver fox.
Aimee from @songofstyle

Truth: we love author, blogger, and YouTube star Aimee for her drool-worthy style sense as she jets off to Paris Fashion Week, travels to Malaysia, Coachella, Tokyo, but we also can't help but be a little bit obsessed with her signature chic dark lob with subtle babylights. And with 5.2M followers on her Instagram feed, we know we're not alone. 
Dorrie from @seniorstylebible

We love—LOVE—Dorrie who, at 84 years old, is taking the "old" out of old fashioned. A former Playboy playmate turned makeup artist, fashion blogger and social media influencer, she writes that she is "refusing to sink from sight in a sea of blue rinse and fluffy slippers." (Although we bet she'd make fluffy slippers look like haute couture.) We can't get enough of Dorrie's chestnut punk pixie cut and her words of female empowerment, inspiration and wit.
Brandi from @theglambelle

We've talked about beauty vlogger/model Brandi before, but that's just because we truly adore her makeup, skincare and workout tips, not to mention her voluminous rich mahogany curls. (She uses Madison Reed! Radiant Cream Color in Firenze Brown, FYI.) Not only does she give product recs, tips + tricks, but she also espouses curl confidence, and we are all about confidence being the new beautiful.
Shalini from @knot_me_pretty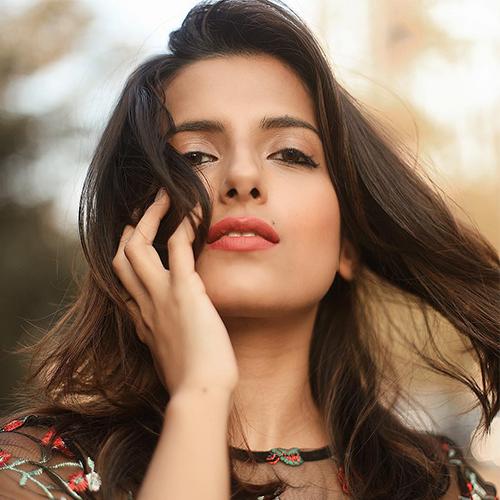 Daily hairstyle inspo sounds too simple for what Shalini showcases on her feed—it's more insanely cute updos, crown twists, braids and barrettes on her gorgeous mane of subtle ombré brunette hair. Sure, her tutorials are easy, but they look anything but basic.
Mia from @miaaflalo

We can't resist including Mia, a 5 year old with serious #hairgoals. Unbelievably long, thick, and a shiny, cool ashy espresso shade, her hair has been featured in British Vogue and garnered the attention of the internet with 110K followers. 
Did we miss your favorite Instagram brunette? Share your go-to inspiration for #brownhairedbeauty in the comments.
Share Your Photos: #MADISONREEDCOLOR