10 Spring Hair Color Trends We're Dye-Ing To Try
by Laura French March 17, 2022
Time to put your winter beanie back in storage and slip on a pair of sunglasses—spring is here, and so are the newest spring hair color trends we can't get enough of. From cherry chocolate to chunky 90's highlights, check out our top ten spring hair color ideas…
1.Spicy Ginger
It's official, red hair color is having a moment in 2022. Our favorite iteration of the red hair color trend is a natural-looking, warm copper red—a.k.a. spicy ginger, rusty copper, or rosy red—that's warm, elegant, and ever so slightly edgy. We love
Vesuvius Red 7NRC
or
Carrara Crimson 7RC
for this youthful, spicy red hair color look with a little bite.
2.Rich Brunette
We've seen it on TikTok and read it in The New York Times, so it must be true…everyone is going brunette right now. Brunette hair colors couldn't be more in, and our favorite brown hair colors for spring are luxe, deep brunette shades that look like soft buttery leather. Some of our favorite rich, glossy brunette hair colors that perfectly highlight this on-trend spring look are
Milano Brown 5NAC
,
Venezia Brown 4NGV
, or
Bolzano Brown 4NMG
. All three shades would look great with soft caramel lowlights, if you want to go lighter for spring…
3.Soft Caramel 
Which brings us to one of our favorite, tried-and-true spring hair color ideas—soft, natural-looking caramel balayage, of course!
Subtle, blended highlights
mean spring is in the air…plus, they're so easy to maintain and grow out. We love a warm brunette with soft balayage highlights that add eye-catching pieces of caramel or gold to rich brunette hair. As an added bonus, your skin will look absolutely glowing. 
4.Dark Honey
2022 is all about warm hair color shades, for brunettes and blondes alike. One blonde hair color shade we're currently buzzing over is dark honey blonde. Warm and flattering, dark honey is an extremely versatile shade of blonde that feels bright, modern, and perfect for spring. It's a lived-in blonde that looks good on everyone. This shade can lean more golden, more tawny, or more taupe, so you've got options. Try
Tivoli Blonde 8N
or
Tremiti Blonde 9NG
, styled with a middle part and soft waves for the ultimate beachy blonde spring hair color look.
5.Ink Black
Back to black for spring? Yes, please. We love a vibrant, shiny caviar black with depth and dimension, like
Pescara Black 2NNA
. So beautiful and rich, you'll want to make it a year round thing.
6. Cherry Chocolate
As delicious as it sounds, this spring hair color trend is a stunning darker auburn look that's an especially sophisticated take on the red hair color trend we already established is taking 2022 by storm. We love this deep brown hair color with ruby red tones, and if you have a known track record of loving auburn hair color shades, this spring hair color trend is not to be missed. We recommend
Trieste Red 5NRM
for a dark chocolate mahogany red. Want more cherry, less chocolate? Go for
Rimini Garnet 5RV
.
7.Lilac
Soft pastels for spring? Groundbreaking. But hear us out, cool lavender or electric lilac hair color is our favorite hue out of all the Easter egg-like spring hair color trends. Lilac hair color feels fresh and creative, especially if it's multi-dimensional and you can see a hint of sparkly silver tones. Opt for a semi-permanent color, so you can decide if you like it before committing to a purple reign.
8.Teddy Brown
This spring's "it" shade of light brunette hair color? Adorable teddy brown. Similar to the mushroom brown hair color trend of yore, this low-maintenance shade feels easy and low key. We're all about
Avella Light Brown 7N
for the perfect light neutral brunette that looks good on everyone. Pair with a shearling coat over a sundress and you've got our ideal spring look…maybe pick up a bouquet of tulips while you're at it. 
9.Chunky Ribbon Highlights
The 90's are back in a big way with this spring hair color trend—chunky ribbon highlights to break up and brighten your base color. These ribbons of color give your look lots of dimension, and are more striking and in your face, literally, than traditional balayage highlights. Be sure to add face-framing pieces to add brightness and dimension. These highlights are eye-catching, to be sure, but there's also a very different way to add highlights to your spring hair color look…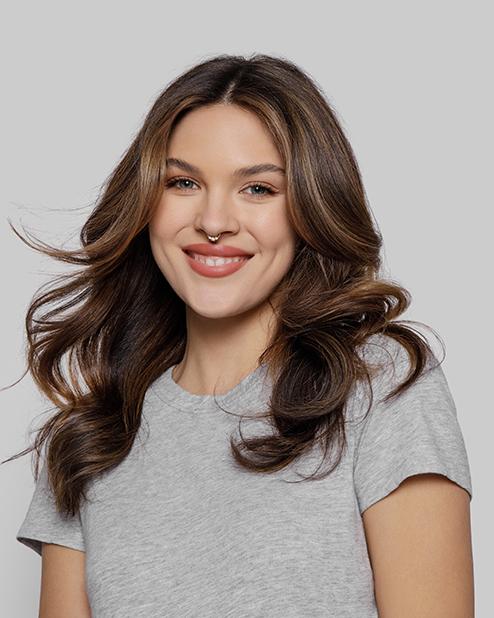 10.Natural Highlights
Soft, sun-kissed, natural-looking highlights?  It just doesn't get more spring-y than that. Visit a
Madison Reed Hair Color Bar
for either traditional foil highlights or hand-painted balayage. To get this gorgeous spring hair color look, opt for Accent Highlights to add a little brightness around your face. Voila, subtle lightness that's perfect for warm weather (it's coming, we promise!).
We hope we've inspired you to switch it up for spring with these warm-weather hair color trends. Which spring hair color trend is your favorite? We want to hear what big plans you have for your hair this spring…whether that's highlights, a new shade, a shorter haircut…we're all ears!
Share Your Photos: #MADISONREEDCOLOR