Madison Reed
4 Dazzling 'Dos: Holiday Party Hair Tutorial, Part 1
Everything shines more brightly during the holidays, and your hair is no exception. Dress your 'do up with 4 fun and easy ways to style your hair with barrettes, pins, and even necklaces. Try it and see: your results will be dazzling!
Side Bun with Bling:
1.) Start with dry hair. Use a curling iron to add a little texture. We find that 2nd day hair works really well too.
2.) Make a side part. Gather hair below the ear on the side opposite your part for a more dramatic effect.
3.) Twist hair and pin into a bun.
4.) Add a beautiful barrette right above the bun. Get creative with what you have! In this photo, we took a shiny necklace and pinned it above the bun. Use bobby pins to fasten securely for style that won't stop.
Bejeweled Top Bun:
1.) Gather hair up to your crown and put into a ponytail. Leave a few flattering face-framing tendrils loose.
2.) Pin hair securely into a messy bun with bobby pins.
3.) Bedazzle your bun with glittering adornments. We chose diamond spin pins by Goody. These and similar accessories are easy to find in drugstores and even easier to use!
Big and Bold Barrette:
1.) Start by giving yourself a deep side part. This will create the look of bangs without a haircut (and possibly become a conversation starter at parties!).
2.) Take your favorite barrette and clip all the hair that you gathered to the side.
3.) The bigger the barrette the better! It's a simple way to stand out in the crowd.
Antique Head Crown:
 1.) With your hair in a center part, take a one-by-two inch section at the front and braid. Repeat this on the other side.
2.) Lift up a section of hair from the crown of your head. Gently back comb (comb down on hair towards head) to build volume.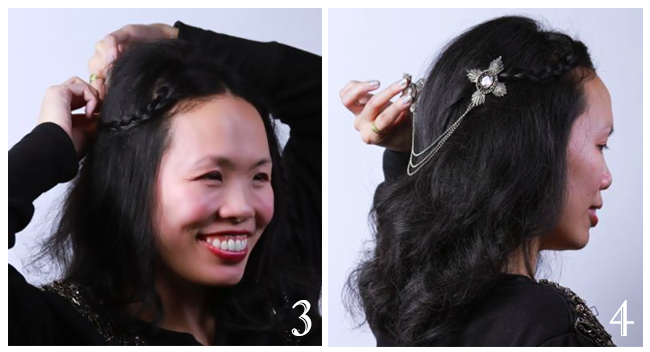 3.) Smooth the backcombed section back and secure your braids with bobby pins.
4.) Attach a dramatic hair accessory where the first braid is pinned.
5.) Attach the accessory to the other braid. Let the piece rest gently into your curls.
6.) Get creative with the beautiful pieces you own, like necklaces, brooches, and more. This look was made with a jacket closure discovered years ago at an estate sale, and it has gained new life as a hair accessory.
Most importantly, enjoy yourself and have a great time. Happy holidays from Madison Reed!
Sign up for our email newsletter to get professional hair tips, exclusive news, special offers, and much more!
Looks created by Natasha Siebert
Hair styled by Natasha Siebert & Tana Allen; modeled by Shirley Chan