Holiday Hair Accessories: DIY Shimmer Flower Headband
by Samantha Vielmader {{"2015-12-28T13:00:00.000Z" | blogDate:'MMMM d, y'}}
One of the true joys of the holiday season is spending time with loved ones, and you don't always need a party to do that. Madison Reed presents a DIY Holiday Hair Accessories series to help you set aside some fun, creative family time!
Today's piece is a shimmering flower headband, modeled by Jill, one of our talented designers.
Supplies:
Hot glue gun
Scissors
Plain headband
Gold ribbon
Decorative flower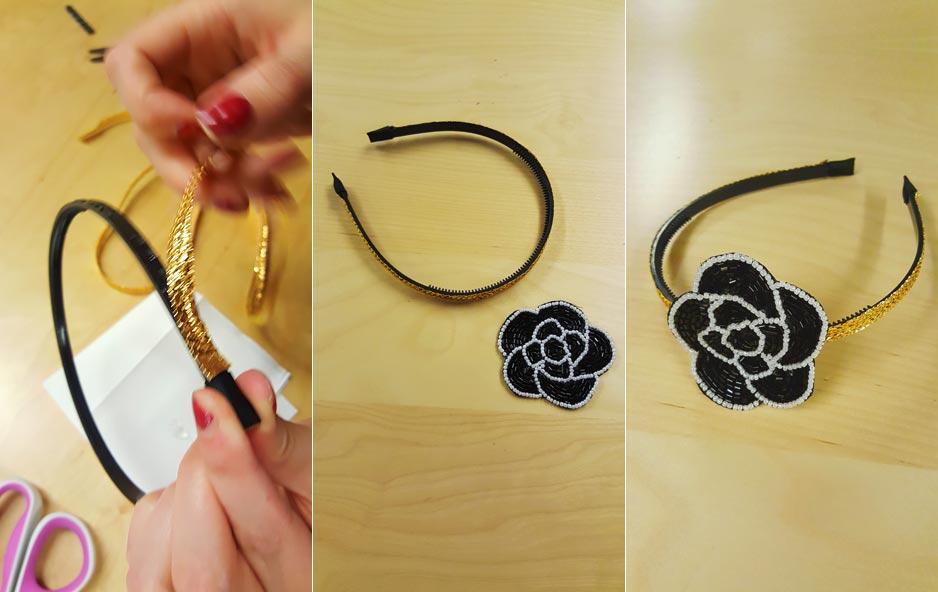 DIY Steps:
1. Glue gold ribbon onto headband
2. Go little by little, smoothing ribbon along headband as you work
3. Don't use too much glue (it'll squish out and show)
4. Let glue cool and dry for at least 5 mins
5. Slip headband on and position flower in mirror to see where you want it
6. Take headband off and glue on the flower
7. Rest headband on arm of chair or a heavy glass, so there's no pressure on the flower as the glue dries
8. Let it dry overnight before using
Sam's Simple Style Tips:
If you have short or shoulder length hair that's hard to style in an updo, a festive headband will give you a holiday look with ease.
1. Run TAME through damp or dry hair with your fingers
2. Smooth down flyaways with a flat iron for a sleek look that accentuates the shine of the headband
3. Slip on the headband and prepare to dazzle
Pro-Tip:
Use clear hair gloss to add even more healthy shine for the holidays.
Keep learning how to make your hair look and feel its very best! Sign up for the Madison Reed email newsletter to get professional hair tips, exclusive news, special offers, and more! Follow us on Facebook, Pinterest, Instagram, YouTube, and Twitter to get expert hair tips wherever you get news.