Holiday Gift Guide: 12 Chic Hair Accessories
by Michelle Lemire {{"2013-12-16T13:56:12-08:00" | blogDate:'MMMM d, y'}}
Possessing a magpie eye when it comes to finding sparkly accessories, we spied 12 chic toppers to dress up hair. From art-deco combs to candy-colored pins, here are gifts to delight the well-tressed on your list–including yourself!
1. An ostrich feather clip to get her flirt on; $35 from Bando.
2. Rustic and elegant, for the woman who finds beauty in nature.$19.50 for a set of two at Woodland Belle.
3. A bow that won't come loose in a sweet retro print, this wire handband is a sure bet. $14 from Modcloth.
4. A barrette from ultra-chic French designer Colette Malouf is jewelry for her hair. $122 from Colette Malouf.
5. For the fierce fashionista, Valentino's coveted Rockstud collection also comes as a spiked headband. $245 at Net-a-porter.
6. For fairy princesses and Middle Earth devotees, this Celtic crystal handband from Deepa Gurnani is magical. $40 at Neiman Marcus.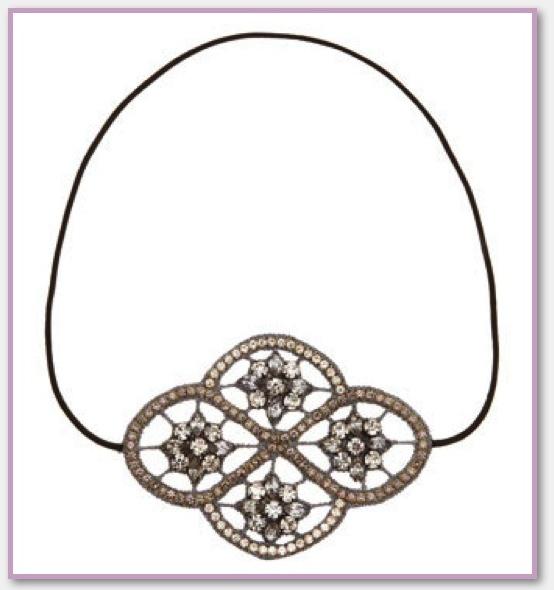 7. These mini bows seem made for smiles and stocking stuffers. $11.50 from Accessorize.
8. For the girl who has everything monogramed, Emi-Jay made head ties with her initials in crystals. $16 at Emi-Jay.
9. For modern-day flappers, a brass comb that will complement champagne cocktails and sequined dress. $58 from Anthropologie.
10. A statement accessory that will dress up any do from Jennifer Behr. $240 from BHLDN.
11. Bring colorful cheer to her everyday basics with this box of 30 bobby pins from Jane Tran. $15 at Birchbox.
12. And finally, because great hair is the perfect accessory, Madison Reed's luxe sulfate-free formula is on everyone's list. $29.95 at Madison Reed.
By: Cheryl Locke