Hats for Any Occasion
by Shilpi Tomar {{"2015-05-12T15:00:00.000Z" | blogDate:'MMMM d, y'}}
Hats aren't just for covering up hair. When done right, they can add the perfect missing accessory to any outfit (or hair day). Whether it's for a cool and casual look at the park, a sporty vibe for the game, or a formal touch to a winning outfit, hats can be worn any place. With so many to choose from, we have the perfect hat for every occasion.
Fedora.
This wide-brimmed hat with an indented crown is the perfect mix of classy and casual to make your outfit pop. Wear it with a t-shirt and jeans, or throw on a casual skirt and flats.
Occasion: This hat can be worn for the perfect picnic at the park with family, friends, and significant others. Just don't forget the charcuterie and wine (and juice for the kids)!



Image via Bigstock
Sun hat.
If there's an abundance of sun where you are, a sunhat would be perfect for you. These hats are specifically designed to protect not only your head, but also your face and shoulders from the sun. Pair this with a bikini (and/or a coverup), a sundress, or shorts and a t-shirt.
Occasion: This hat is perfect for a tropical destination. If you end up at the beach, you won't have to worry about getting sunburned on your face, shoulders or neck!



Image via Bigstock
Floppy hat.
Big, floppy hats are perfect when you want to keep yourself covered but still want to dress it up. With so many unique pieces to choose from, you will be able to dress up pretty much any outfit. Dress it up with a flowy dress and heels, or add some sophistication by wearing it with a loose tucked-in shirt and a pencil skirt.
Occasion: This hat would be perfect for brunch with the ladies. If you get a seat on the patio, you'll be more than happy you brought your big floppy hat to cover up from the sun (and look stylish). Bring on the mimosas!



Image via Bigstock
The beanie.
This head-hugging, brimless accessory is one of the most popular hats worn today. Regardless of the season, a beanie is the perfect transition piece that can go with any outfit. Colorful beanies are the perfect accessory to an outfit that needs a little bit of a pop.
Occasion: The best place to wear a beanie? Anywhere. We recommend wearing it when you want to keep your hair intact on the go.



Image via Bigstock
The baseball cap.
This soft cap with a stiff peak and protective bill is best for any sporty look. These hats are not just for men--they cover your face from the sun's rays and are easy to wear with a ponytail or loose hair. Keep the look sporty with a jersey, a t-shirt and jeans, or a casual dress.
Occasion: The best place to wear this hat is outside during a casual sporty occasion. You can wear it cheering from the sidelines during your kid's softball game, or on your way to the gym. Anything goes.



Image via Bigstock

Bowler hat.
This hard felt hat is rounded at the crown and shaped like a (you guessed it) bowl. Worn by celebrities and fashion moguls alike, this hat will dress up any outfit. Wear it with a blouse and skirt with tights, some chelsea boots, or a cute shirt & jean ensemble.
Occasion: Any stylish event or gathering will be the perfect place to wear a bowler hat. Whether it's a friend's birthday party or a new store opening, you can flaunt this piece anywhere (and receive tons of compliments at the same time).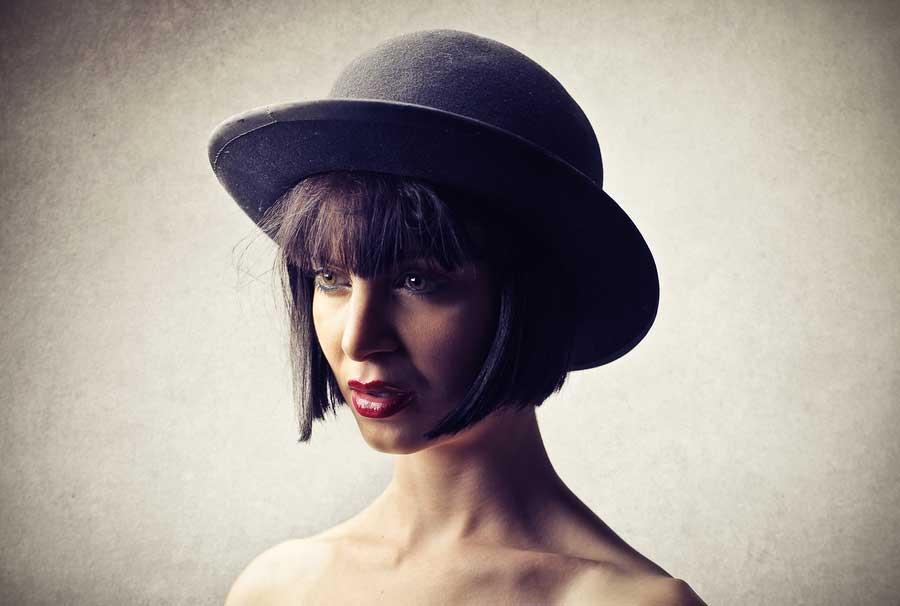 Image via Bigstock
The retro hat.
Saved for special occasions only, this hat can be the perfect touch to any outfit you want to glam up. A black hat can add some sophistication, a red hat can add a pop of color, and a white hat can add some charm.
Occasion: If you're going to attend a retro-themed or glamorous event like New Year's Eve, or a special friend's anniversary, try the retro hat to give yourself an instantly dressed up look. Add some pearls and gloves, and you've got yourself made.



Image via Bigstock
Fascinator hat.
Originally a lightweight head covering, this hat is now a form of headwear design. But it's not just for the Duchess of Cambridge. When worn correctly, it can add a whole new dimension to any ensemble. Fascinator hats are specifically made to stand out of the crowd. With so many uniquely crafted designs, there are no rules when it comes to this type.
Occasion: These hats are designed for very special occasions, and weddings are one of them. If it's a spring/summer wedding, the fascinator can keep you cool and make you look elegant at the same time.



Image via Bigstock