Get to Know the Color Crew: Sam Vielmader
by Shirley Chan {{"2015-04-16T08:00:15-07:00" | blogDate:'MMMM d, y'}}
Behind the scenes at Madison Reed, there's a team of talented, creative people who make working here a pure joy. Meet Sam, colorist extraordinaire, Color Crew supervisor, and head of our Hair Model Program:
How did you start working with beauty and hair?
From a young age, I was always interested. I started coloring my own hair in middle school, started coloring my friends' hair, and never stopped. My first color in the 7th grade was purple.
Like the Madison Reed brand… it was meant to be! What do you specialize in?
Vivid colors and highlights are my favorite. They're more complicated. I like the challenge to see what I can achieve.
What do you do at Madison Reed?
Everything from supervising the Color Crew, making sure we give the best, most informative service ever, to running the Hair Model Program. 
What's the Hair Model Program?
Every colorist on our team gets hands-on with our products. We get different women to come in, all with different hair colors, hair types, and personal styles. The Color Crew sees the real-life results that come from this wide range of starting point hair, which makes us even more expert in what to recommend in our one-on-one consultations.
What gets you excited about Madison Reed?
Being able to provide something new that isn't available for so many people:
The women who can't take the time or money to go out and pamper themselves at a salon.
Women who are conscious about how they look and also what's healthy for them.
People in rural areas without salons who can use something better than drugstore dye.
It feels good to give people what they want.
Favorite customer experience?
I write to people who leave reviews with 1 to 3 stars and ask, "What happened? How can I make this a 5-star experience for you?"
A lot of times, these are women who needed more help choosing the right color or guidance applying it. Hearing them say, "Oh, you helped me get the right color now!" and know that they're feeling good about the way they look is my favorite!
Fess up, do you have a guilty (hair) pleasure?
Stylists are going to yell at me, but I have to shampoo and condition my hair every day. I style our hair models so much that it's a workout, and dry shampoo doesn't work that well for me. Blow drying is like my gym!
Good one! Hope we don't get you yelled at too much. What's the longest your hair's ever been?
It was pretty long, about 12-14″ when I was a kid.
What's the shortest your hair's ever been?
Oh BOY. I got a graduated bob, and I looked like Prince Valiant for the Princess Bride. I cried.
Aww… ok, we won't ask for a photo.  
 Time for a fun question. You win the lotto. What's the first thing you do?
Oh, I have a plan for this!
First, invest in Madison Reed. And then buy a 3-story Victorian in San Francisco, live in the top 2 floors with Chelsea (you'll meet Chelsea next week!), and own a Madison Reed focus salon at street level.
What's something embarrassing that you totally don't want your team or the world to know? TELL US.
Omg. My hair's naturally super blonde, about a level 8. It's been at least 15 years since anyone has seen my natural hair color. I'm a level 3 right now. A dark brunette.
Possibly the last time anyone saw Sam's natural blonde locks: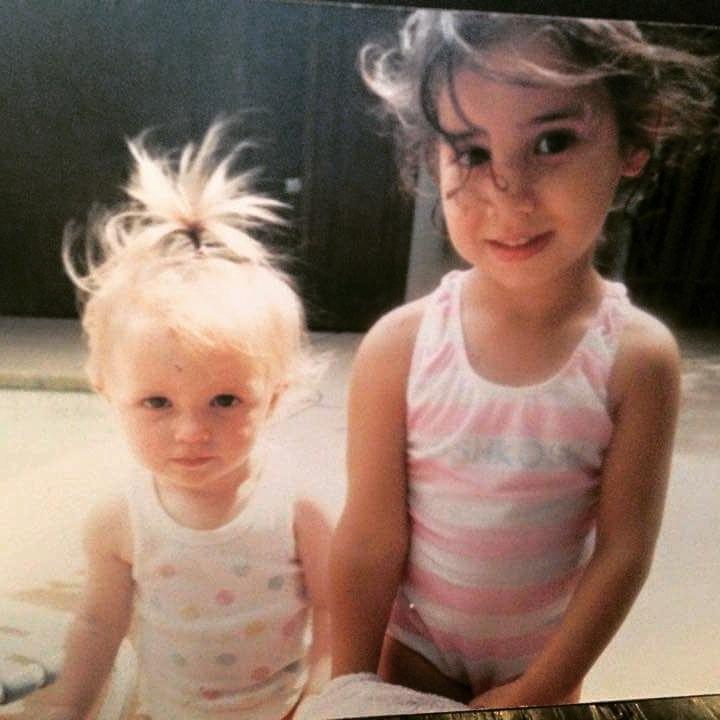 What do you like to do besides color hair and make people feel beautiful? 
I like to sew—skirts, purses, and scarfs—hang out in Golden Gate Park, spend time with the love of my life Devon, and hunt for thrift shop treasures. Everything in my apt is Goodwill and it's good stuff!
Looks like Sam loves vibrant color in her home as well as on her hair:

What's your favorite food?
Mexican, for sure. I'm a quarter hispanic, which a lot of people don't believe, and I grew up with a lot of Mexican food. It's very comforting for me.
What's the favorite place you've ever traveled?
Probably Finland. It's really beautiful and very organic. Everyone is very natural and easy going. You can leave your bike in front of a store all day, and it will never get stolen. Everyone did. I wish San Francisco had that camaraderie.
Do you have any pets?
Yes, 2 cats and a rat.
A rat??
Yes, they're friends and they play together! They're named Adeline, Lucy, and Lil Rat Rat.
Leave it to Sam to get a cat and rat to form a friendship:

Do you have any expert hair care or styling tips you want to give our readers? Yes! Everyone needs to use a heat protectant before any sort of heat styling, like blow drying or using a flat iron or curling iron. I like Paul Mitchell's Hot Off the Press because it protects against heat and gives a little hold that lasts throughout the day. 
Everything else, I kind of wing it. Hair is fun! Women should definitely be open to trying new things. Experiment with brands and products until you find what's right for you.
Thanks Sam!
Thanks for getting to know the team at Madison Reed. Reach out to our expert Color Crew today for a free consultation. We are passionate about giving you better, healthier options for your hair!