The Modern Way to Color Your Grays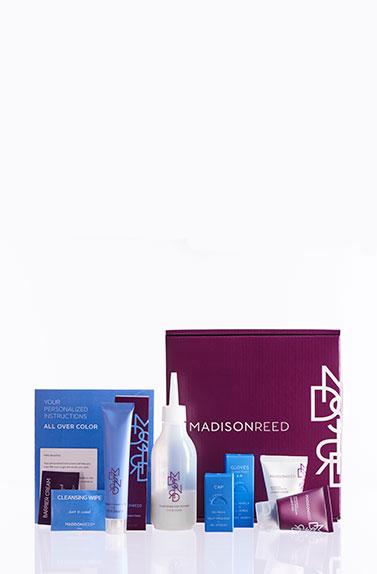 NATURE'S BEST INGREDIENTS
HEALTHIER HAIR, BRILLIANT RESULTS
Radiant, Salon-Quality Color
FIND YOUR COLOR >
Grays, grays, go away! For some, they start showing up during our early twenties, while others don't see a single one until later in life. Either way, it doesn't have to define how people see you. The modern woman can color her grays in a healthier way with a guided experience from Madison Reed!
Are you getting the best color available?
Everyone has a hair color that feels true to them, whether your follicles agree or not. If gray doesn't match that mental picture, permanent color is the solution. This process embeds pigments deeply into hair, providing full coverage for grays.
Behind the scenes at a salon, colorists mix different colors to mimic the look of natural hair. It requires a lot of training and experience to get the combination right, and often, salons simply do not have the space to store the full range of colors. Even when they do, most formulas are packed with potentially harmful chemicals.
That's why sitting for hours in a salon still may not guarantee the experience or hair color you want… especially if you don't live in a large city. Multiply that by how often you really need to color—about once every four or five weeks—and it becomes a huge investment of your time.
If you're browsing drugstore aisles to find your color, the choices can be even worse. There's no one to answer your questions—about the color or the ingredients—and the pictures on the box don't tell you how the color will turn out on your hair.
To create a better experience, Madison Reed traveled to Italy to re-engineer hair color for women to use at home. The result is a healthier formula that uses multiple tones to create natural-looking highlights and lowlights, just like a top-tier stylist would.
Check out this before and after of complete gray coverage with Madison Reed's Radiant Color:
Gina is very happy with the results she got from Milano Brown 5NAC.
This breakthrough formula has no pungent smell, makes hair stronger, and stays vibrant longer.
One key innovation is the use of smaller color molecules, called micropigments, for gentler coloring that doesn't require ammonia to aggressively open the hair cuticle to deposit color.
With this type of scientific advancement, Madison Reed is able to remove 22 harsh chemicals that are traditionally found in drugstore dyes—like PPD, ammonia, and resorcinol. Then nourishing ingredients—like keratin, argan oil, and ginseng root—are added to soften and refine gray hair, which is usually coarser.
What brings out your natural beauty?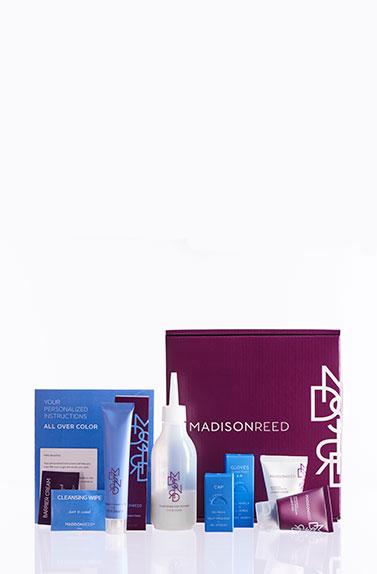 NATURE'S BEST INGREDIENTS
HEALTHIER HAIR, BRILLIANT RESULTS
Radiant, Salon-Quality Color
FIND YOUR COLOR >
There's no one-size-fits-all answer when it comes to choosing the right hair color.
Going too dark can look harsh. Going too light can wash you out and even make you look older. Just like Goldilocks, you have to hold out for something that feels juuust right.
Unless you're lucky enough to have a world-class colorist available at a moment's notice, that can be challenging. Plus you have to go there and spend hours in a chair away from home. Browsing an aisle full of boxed color isn't going to help either. Those don't even take your hair history into account!
That's why the Madison Reed's online Color Advisor was created. It guides you through a few quick questions about your hair type, skin tone, and how you want to look, and then it saves your personalized Hair Profile so you always have a reference point.
This is what will help you choose a color that flatters your complexion and suits your style. And that's why you're coloring your hair in the first place, right?
Of course, sometimes you just need to talk it out with an expert who cares about making you happy. Madison Reed's Color Crew is a team of professional stylists who color-match selfies, come up with solutions for salon or drugstore experiments gone awry, and create customized color plans to help you look the way you want to. It's like having a team of colorists that doesn't require weeks of waiting for an appointment.
How do you make it fun?
Coloring hair at home gets a bad rep from those tiny boxes you see in drugstores, crammed with flimsy paper instructions that get stuck to your hand and dyes that give off strong fumes. That's not modern.
These days, women are throwing monthly "color parties" the same way we have book club meetings… with plenty of wine, cheese, and friends. You can set up a fun (and healthy) themed fruit plate with blackberries, strawberries, and pineapples to represent brunettes, redheads, and blondes!
On the flip side, a lot of women are turning their color days into a chance to get some well-deserved alone time. Set up your home spa with candles, music, and a relaxing read. If you have kids, ask a friend to host a playdate. This works really well with other moms because you can trade playdates, and everyone gets a day off to herself. Once you have the place to yourself, Radiant Color actually smells nice, so nothing will disturb your peace and quiet.
Thoughtful touches like the double set of gloves in every kit, personalized instructions, and voice-controlled tutorials (just download the app, prop up your iPad, and slip a "do not disturb" sign on the door!) make Madison Reed fun and easy to use.
So what are you waiting for? Build your Hair Profile now to get started or get a free consultation with the Color Crew by chat, email, or phone (call 1.888.550.9586). Everything is designed to help you look and feel amazing!