Get Gorgeous Hair in Your 40s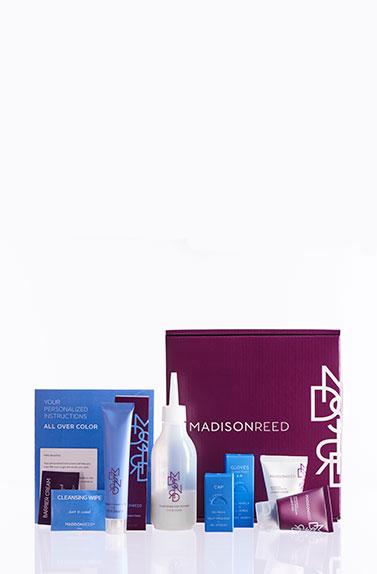 NATURE'S BEST INGREDIENTS
HEALTHIER HAIR, BRILLIANT RESULTS
Radiant, Salon-Quality Color
FIND YOUR COLOR >
You've come a long way, baby! Turning 40 is no longer something that women hide. That's because you've hit your stride in your life, your career, and your sense of self. Here's how to use that knowledge—and a clever hair color experience by Madison Reed—to upgrade your routine.
You know how you want to look.
And that no longer means ripping a page out of the magazine and asking a stylist to copy a celebrity look. Yes, they're gorgeous, but you have embraced what's special about you. That doesn't have to mean accepting your grays either. The right hair color will complement your best features and keep the focus where it should be—on you!
The three things you need to get that perfect hair color are:
Understanding where you're starting from
Knowing where you want to go
Getting expertly mixed color that performs
When people skip one or two of those steps, they can end up with flat color, or brassy tones, or a shade that competes with them for attention.
Obviously, picking a color in the aisle of a drugstore isn't the right answer, but did you know that salon results vary drastically, too? That's because it takes years of training and experience to ask the right questions and mix the right colors. Many places don't stock a full range of tones for their colorists to use. So even great stylists can be stuck working with the wrong formula or one that's packed with harmful chemicals.
This is why Madison Reed exists—to give women a healthier, easier way to get the hair color they want at home. There's an online Color Advisor to guide you through a quick diagnostic of your hair, a team of professional stylists called the Color Crew to provide free consultations, and a full line of Radiant Color shades developed by award-winning color expert Susan Roberts-Cooper.
The whole experience is designed to take all the important information about your hair and distill it into a short list of your very best choices. The color kits come to your door, and then everything is laid out to give you the vibrant, dimensional results that you thought only a world-class colorist could achieve.
You know how you want to feel.
It's pretty amazing to hear what women go through to color their hair. They'll wait weeks for an appointment, spend hours in a salon chair, and endure reactions to the harsh chemicals in the traditional dyes found in both salons and drugstores.
There's a better way.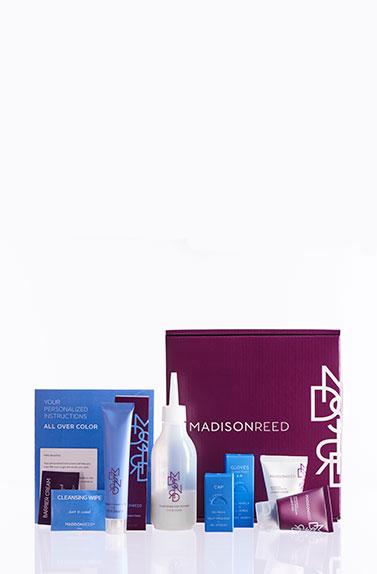 NATURE'S BEST INGREDIENTS
HEALTHIER HAIR, BRILLIANT RESULTS
Radiant, Salon-Quality Color
FIND YOUR COLOR >
Using advances in science and technology, Madison Reed is replacing chemicals that have been linked to alarming levels of toxicity or allergic reactions with ingredients that are both safer and higher performance.
One key innovation is the use of smaller color molecules, called micropigments, for a gentler process that doesn't require ammonia to aggressively open the hair cuticle to deposit color.
That's why Madison Reed is able to remove 22 harsh chemicals that are traditionally found in drugstore dyes—like PPD, ammonia, and resorcinol. There's no longer a choice to be made between risking your health and getting the look you want.
In addition to keeping you safer and more comfortable while coloring, Radiant Color also contains nourishing elements—like keratin, argan oil, and ginseng root—to repair past damage and strengthen your hair.
It's hair color that actually makes your hair softer and healthier the more you use it. Talk about getting better with age!
You know how you want to spend your time.
When you think about how spending hours a salon still can't guarantee the right hair color, or worse, how you have to spend hours correcting the wrong results from a drugstore box, that's a lot of time lost every time you have to color your hair.
What's holding you back from finding a better way?
A lot of women hold back because they had a bad experience. Raise your hand if you've been burned (maybe literally), choked on chemical fumes, or just flat-out hated the color you got. That's no fun.
But being in your 40s means you can both learn from the past and be open to trying new things!
Because Radiant Color is designed with multiple tones, every shade yields natural-looking richness and dimension. Your hair will look like it has beautiful natural highlights and lowlights… so you'll look like a star effortlessly.
Speaking of effortless, Madison Reed worked hard to improve every part of the home coloring experience. No matter where you live, you can get this easy, expert color delivered. You're no longer held back by the choices available around you.
And when your color kit arrives, thoughtful touches like the double set of gloves, personalized instructions, and voice-controlled tutorials (just download the app, prop up your iPad, and slip a "do not disturb" sign on the door!) help you color with confidence.
So what are you waiting for? Build your Hair Profile now to get started or get a free consultation with the Color Crew by chat, email, or phone (call 1.888.550.9586). Everything is designed to help you look and feel amazing!